Rwanda's years of war and genocide are in the past, so poor infrastructure is now the biggest threat to life and health. Lack of timely supplies of blood, particularly for haemorrhaging new mothers, is an acute healthcare problem. Of Zipline-delivered supplies of blood bags sent to 18 hospitals, 50 per cent go to new mothers and 25 per cent to children under five, usually malaria patients. It takes 40 minutes for a drone to deliver blood to the furthest hospital, a delivery that would take three hours by road. The cost of the delivery by air is five times less than the cost on wheels. Clinics and hospitals receive a mobile phone alert as the box containing blood packets drops down by parachute.
Blaise Musabe, Zipline's customer service operator, shows me round the busy dispatch centre, which makes 35 deliveries a day, soon to be increased to 100. He and his colleagues patiently answer my barrage of questions. The prevailing sense of purpose, and the animated body language of staff as they speedily process orders coming in via WhatsApp, tell their own story. While happy to stop and explain what they are doing, it is clear that they do not want to be standing around chatting. I get the sense of a workplace where staff don't spend their time wishing they were somewhere else.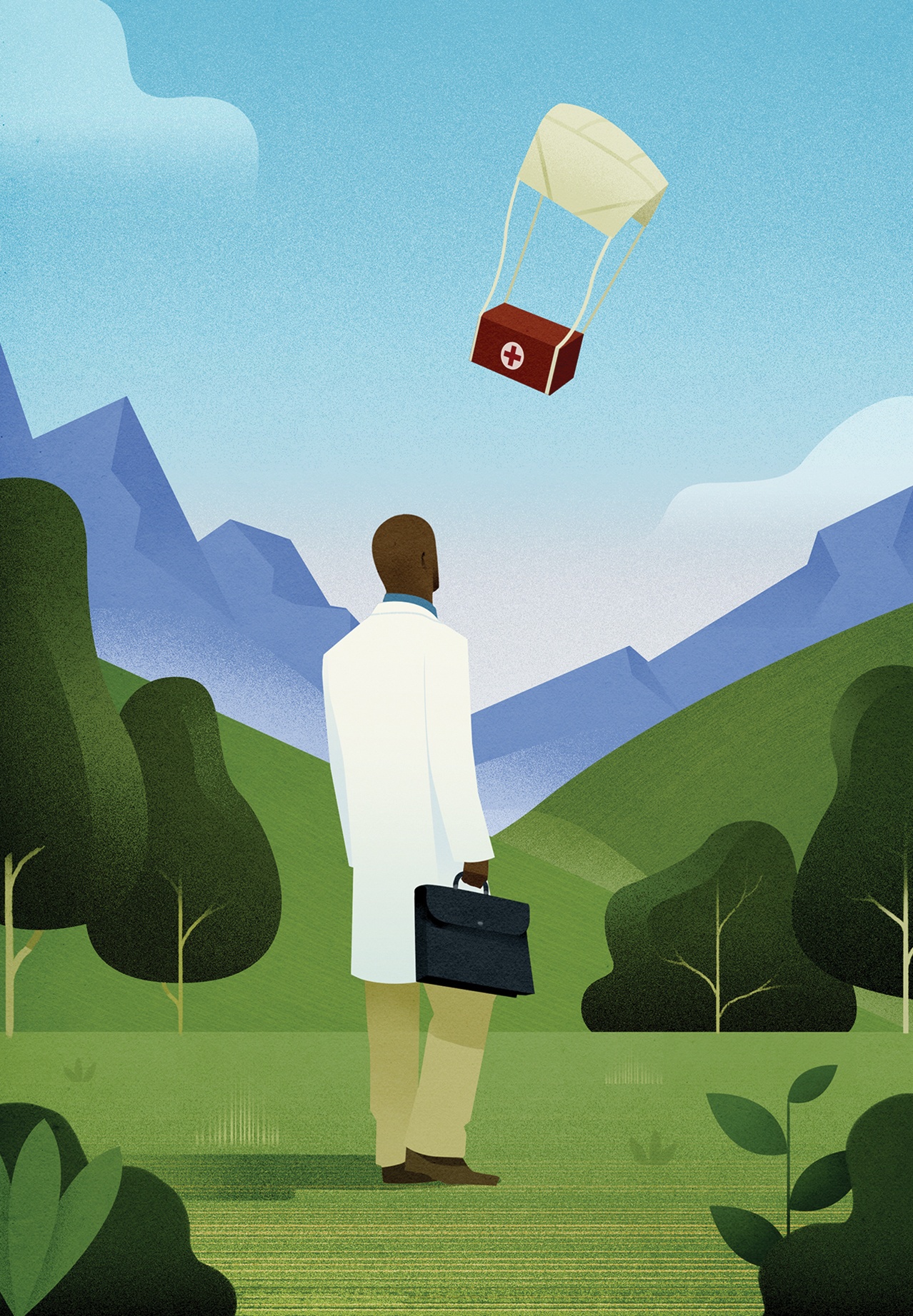 This sense of purpose strengthened my view that operating in Rwanda, a country smaller than Scotland, has been a successful experiment for Zipline. The terrain that made my taxi ride so uncomfortable makes the supply of a hugely complex and hard-to-store product like human blood expensive and wasteful, while the delays involved in overland delivery are life-threatening. Now delivering over half of Rwanda's blood supply via its robot fleet, Zipline has rendered topography irrelevant. Thus, a technology searching for a use (drones) has meshed with a life-threatening problem searching for a solution, saving an estimated 1,100 lives so far.   
It's no surprise then that Zipline has earned the goodwill of so many Rwandans, from high-level officials to the many armed security personnel I encounter between the airport and Muhanga. That also includes the barefoot kids who gave my driver elaborate directions on how to get to Zipline's headquarters and the others who, along with many adults, throng the perimeter fence to witness drones taking off and landing.
I can see why they do, as the process is mesmerising. The catapulting of the 'Zips' by the bungee-enabled launcher is fun to watch but landing is even more impressive, attesting to the sophistication of Zipline's GPS and robot aeronauts. There is excitement in the air as the drone's tiny tail hook unfailingly finds the wire slung between two poles, arresting the flight and bringing the mini-aircraft safely down on the landing pillow. The degree of precision is mind-boggling.     
The transformational potential of Zipline, already clear to Baillie Gifford investment managers on paper, is even more compelling on the ground, where the level of dedication and the value of its community engagement become clearer. My sense is that the qualities that make Zipline so high-profile and effective in Rwanda can transfer to other territories where its disruptive power will be greater.
Zipline's positive brand profile struck me as highly unusual. How many medical supplies distribution companies can those outside the healthcare sector name?
This ability to generate a strong degree of popular and governmental approval is not a trivial thing. A company with global ambitions operating in red tape-heavy environments such as healthcare and aviation must be prepared to start from scratch in each new jurisdiction. It helps if the company already has the momentum to impress a range of national stakeholders, starting with healthcare and civil aviation authorities. The better the company's image and the better its safety record, the easier it may be to get wary bureaucrats on board. Rwanda will prove a rock-solid case study to present elsewhere.
It won't hurt that the company also offers good jobs in places such as Muhanga where there aren't many to be found. Some of the Zipline staff told me that the company was quickly becoming the place where young Rwandans aspired to work.
"They think drones are cool, and so is saving lives," Blaise told me. Having seen Zipline's operation in action, I can only agree.