Synthetic biology is a loose term for a group of genetic engineering techniques which edit the DNA of an existing organism to produce a desired product. For example, re-engineering yeast cells to produce specific flavours or fragrances as opposed to its normal by-product, ethanol. These flavours and fragrances can then be used in perfumes or food production and potentially replace existing supply chains in these industries. As human understanding of biology has grown, aided by genetic sequencing and gene editing, so has our ability to programme biology. Consequently, as human knowledge and aptitude to manipulate chemical compounds increases, so does our capability to discover new materials and processes.
Biology could be described as the most incredible technology we can imagine, but current understanding is constraining its uses. However, some companies are making progress in the area.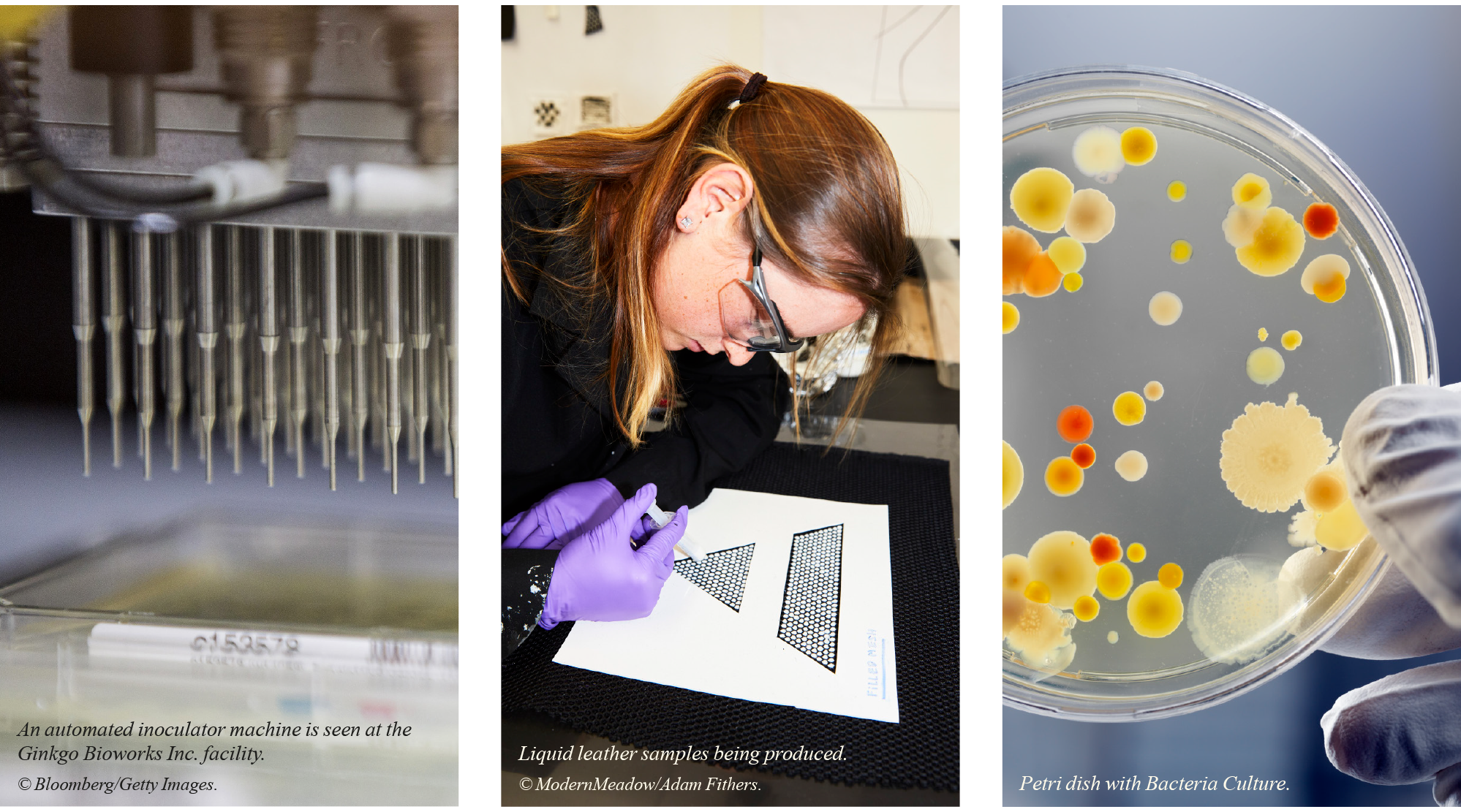 Ginkgo BioWorks, a private company based in Boston, is a self-defined 'organism design firm'. It genetically modifies yeast, and ferments it to produce a variety of products, from flavours and fragrances, to microbes for agriculture. It licenses the design to customers and takes a share of the profits.
Modern Meadow, a New Jersey-based private company, uses pichia yeast to produce animal-free collagen, from which it produces a form of bio-leather. The way this is produced means it can be moulded into any shape, take on any texture, and be liquid or solid, opening a huge range of use cases beyond what leather is currently utilised for.
Synlogic is a Boston-based small cap company, which is trying to bring 'living medicines' to patients by genetically programming bacteria to perform functions that an individual's body is not able to perform. Its first product helps sufferers of a rare disease called urea cyclic disorder. Sufferers cannot break down ammonia. Synlogic has developed bacteria which, when swallowed, are able to consume the ammonia, thus removing it from the body.
Exploring Future Possibilities
Synthetic biology has the potential to disrupt huge swathes of the companies listed on the stock market and could present a significant challenge to a number of industries in the long term. However, predicting the future of the industry is challenging. As Tom Knight, the 'father of synthetic biology', Ginkgo founder and expert put it: predicting the future of synthetic biology is like asking Bardeen, the inventor of the transistor, to predict the iPhone in 1948. However, there are several areas which look likely to come under threat first.
Materials
As mentioned earlier, leather looks like a market ripe for disruption. Leather is a $100 billion market, and synthetic leather adds a further $50 billion. Producing leather using yeast enables increased flexibility of form (meaning it can be produced on a roll or as a liquid), increased design possibilities and a far lighter footprint on the planet, given tanning and livestock both consume large quantities of resources. Furthermore, if bio-leather is not constrained in its form, the uses for it may expand, causing disruption to the broader textile market. This could present significant opportunities for a sports apparel maker such as Under Armour to embrace new and innovative materials. Its supply chains could also be drastically altered – why would manufacturing in Vietnam or China make sense any more? The production of materials which might otherwise be outsourced to other countries could be brought onshore, grown in a vat and then finished by robots.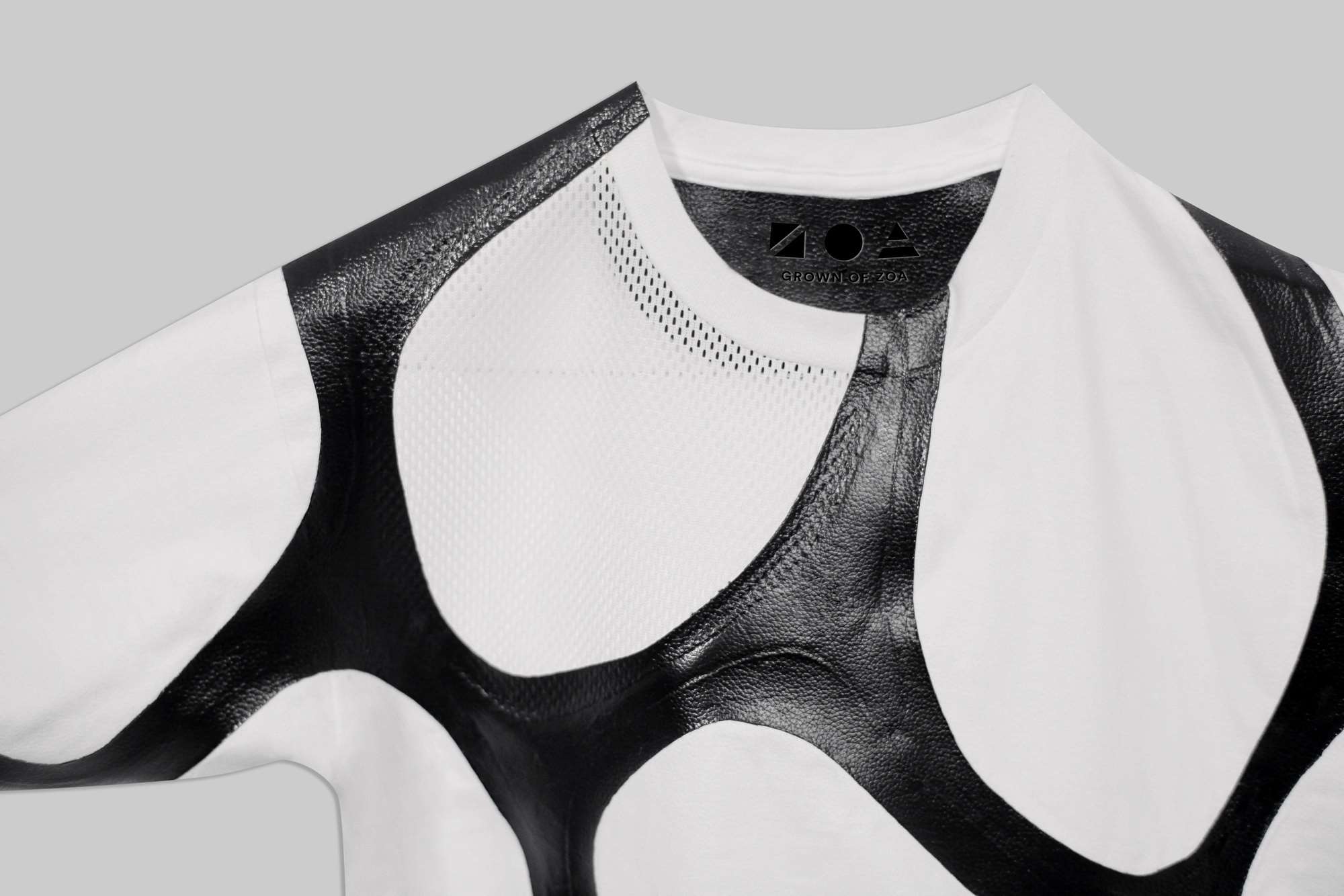 Modern Meadow Zoa t-shirt. Commissioned by The Museum of Modern Art, New York, on the occasion of the exhibition Items: Is Fashion Modern? © ModernMeadow/Sara Kinney.


Another product that could be created via synthetic biology is wood: is it better to make wood in a controlled way, without knots or with a cuboid trunk? In the future, harnessing biology may enable us to produce wood on demand, rather than having to grow forests from scratch or deforesting.
The ability to produce more products locally and on demand would have some significant impacts; on shipping and the prices of the materials themselves; the requirement to ship long distances would likely fall, and supply chains would shorten. Additionally, consistency in the production of materials would result in more stable material commodity prices; for example, weather events would not have the same impact on prices.