What is happening?
The investment skies have been azure for a decade with the US enjoying its longest ever economic expansion and the Chinese economy more than doubling in size. Companies have gorged on an abundance of cheap capital, and unemployment has rarely been lower. This rosy backdrop has fuelled the longest ever twin bull markets in equities and bonds, with volatility repressed wherever it has threatened to bubble up. For most western stock market participants – on the right side of the growing chasm between rich and poor – life has rarely felt safer or more benign.
It is commonly believed that the human response to crises is shaped by experience. Those trained to survive trauma are often more likely to be calm and rational when faced with stress and vice versa. But dormant fight-or-flight reflexes have had little calibration material recently. Indeed, many current market participants, both human and electronic, have not experienced any proper risk before.
And in this vein, it is probably unsurprising that the stock market's current 'amygdala hijack' is a serious one. Just over a month from the S&P 500 hitting an all-time high, the markets are now in a monumental funk in anticipation of a pending recession that has emerged faster than any other in history. Few soothsayers or risk modellers in the finance industry foresaw the cause of this one – a crown-shaped virus of 120 nanometres in diameter.
Pandemics present a different type of exogenous shock to markets. They rarely have a definitive start date and it often takes a while before the gravity of the situation filters through. From here, there is a wide range of potential outcomes. At one extreme, a successful emulation of China's efforts might see the virus eliminated quickly, with a hugely painful, but correspondingly short-term, economic shock. At the other extreme, this could prove a prolonged affair, with serious and enduring consequences for almost everyone on the planet.
In times of crisis, the markets face an explosion in the volume of information. Some can be passed off as fun and harmless trivia. It transpires for example, that the UK runs a toilet roll surplus to the tune of $129 million and is the 11th largest exporter in the world. But little of the new noise is this benign. Instead, it is laced with negativity and drama – specifically designed to play to the cognitive weaknesses of both investors and savers.
In the current environment, the biggest trap for any investor is to get sucked into these echo chambers. Humility, level headedness, imagination and critical analysis are needed in the face of such massive uncertainty. In this regard, we should be well placed. Over the past century, our investment approach has been well tested through world wars, pandemics and deep recessions. Crucially, we have a stable base of loyal clients who share our focus on the very long term.
What we're doing
As always, we remain focussed on finding and holding exceptional companies and that element of our work has changed little on a day-to-day basis. Remember, most of us have been working together for decades and we spend much of our time away from the office in any case. From an operational perspective, the investment tools of our trade are designed to work from anywhere, so the transition to remote working in the face of a coronavirus (Covid-19) lockdown has proved to be smooth. This has enabled us to spend time calmly reflecting on the positioning of our portfolios in the face of a recession that is notable not just for its suddenness, but also its uniqueness in the sense that it has been deliberately induced in order to save thousands of lives.
We're focusing on four key areas
1. Survival and resilience
The first is corporate survival amid a liquidity crunch that is at least as serious as the one in 2008, along with a demand and supply shock that will be much worse for many companies.
The good news is that the solvency concerns at the heart of previous crises are absent, as are any mutterings about moral hazard. Near zero western interest rates have deprived governments and central banks of their main levers, but they have rummaged around in their toolboxes and ultimately responded decisively with trillions of dollars of stimulus to keep the banks lending, businesses afloat and individuals solvent.
But, even if the coronavirus is contained more quickly than expected from here, many listed companies now find themselves in a precarious financial position following a decade of splurging on dividends and buybacks – the latter at higher and higher prices, and fuelled by $10 trillion of loose money. The airlines are a good example – begging for a bailout, after having used 96% of their cash on buybacks to juice their share prices over the past 10 years. If the current environment prevails, it will be interesting, indeed, to watch indebted index incumbents trying to repay the $6 trillion of corporate debt that falls due over the next four years.
We have been reviewing the broader financial strength of our holdings. The starting point is that in aggregate, many of our portfolios helpfully sit on net cash, in contrast to the broader market. But we have also been looking at cash burn rates and debt profiles in case the credit markets remain gummed up. A handful of holdings need particularly close monitoring but, in aggregate, it is a reassuring picture.
In recent years at Baillie Gifford, we have been closely watching the extent to which listed companies spend money on capital expenditure and research and development (R&D) versus spending money on buybacks and dividends. For the market at large, the (capex + R&D) / (buybacks + dividends) ratio has fallen well below one and this sits at the heart of why the index now finds itself in so much trouble. Many of the companies that we hold, however, have been investing for the future rather than gorging unsustainably and, in the current environment, that leaves them well placed not just to weather the storm, but to cement their advantages.
Corporate Botox in Action
The smooth veneer of a shrinking equity base is now being exposed.
Source: Eikon Thomsons Reuters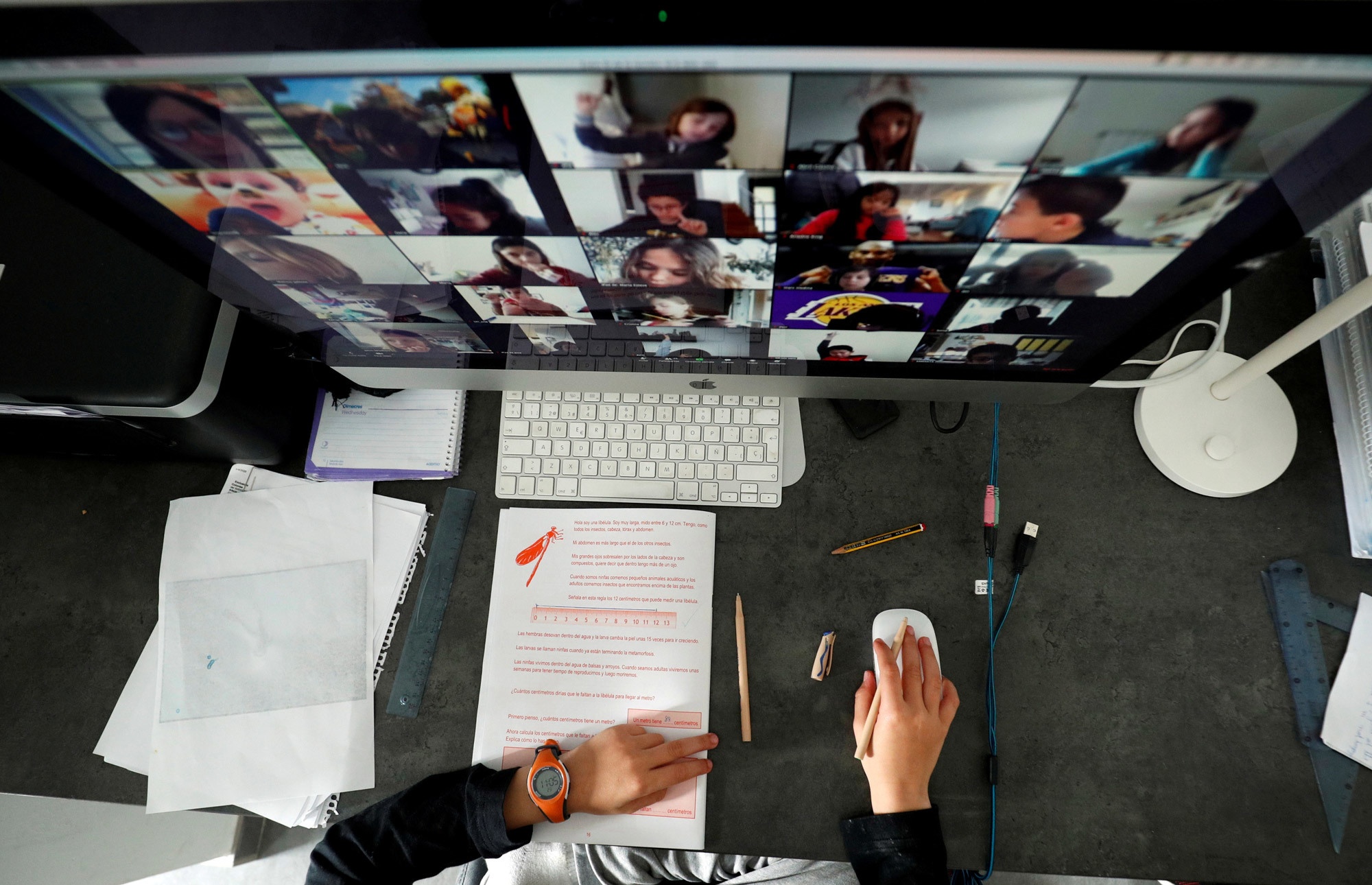 © Albert Gea/Reuters
2. Culture and adaptability
Beyond this important number crunching, the current investment backdrop sorts the average management teams from the exceptional ones. It presents us with an opportunity to properly stress test the cultural mettle of our holdings – the adaptability and the contributions to society which we seek through questions in our various investment research frameworks.  And we are now seeing proof of the pudding on this front.
Netflix, enjoying a surge in demand for its services, is working with both governments and infrastructure providers to cap the load on broadband networks that face strain from a housebound population of workers and school pupils. Alibaba has launched a series of machine learning tools to help medical researchers in the fight against the coronavirus, providing additional support through its vast cloud computing platform and data transfer capabilities. Within the space of a fortnight, Kering has adapted the Italian Gucci, Balenciaga and Yves Saint Laurent factories to make masks and medical overalls.
Another interesting dynamic is that the large technology platforms have suddenly pivoted from bête noir to trusted and crucial accomplices in the eyes of most western governments. Amazon has raised the minimum wage and taken on one hundred thousand new staff, including furloughed hospitality workers, to help in the face of surging demand. It is working closely with governments to prioritise the delivery of crucial goods and frontline medical supplies. Facebook is providing free tools to help governments and health organisations promote important concepts, such as social distancing. Alphabet has seen a surge in demand for Google Classroom, its free educational app, as teachers have scrambled to get to grips with home schooling.
These short-term responses are both crucial and encouraging, and we have written to our holdings to articulate our support as long-term shareholders, encouraging them to disregard short-term profitability and do the right thing by their employees, by their customers and by society.
Example Investment Research Framework Questions
Is your business culture clearly differentiated?
Is it adaptable? Why do your customers like you? How do you contribute to society?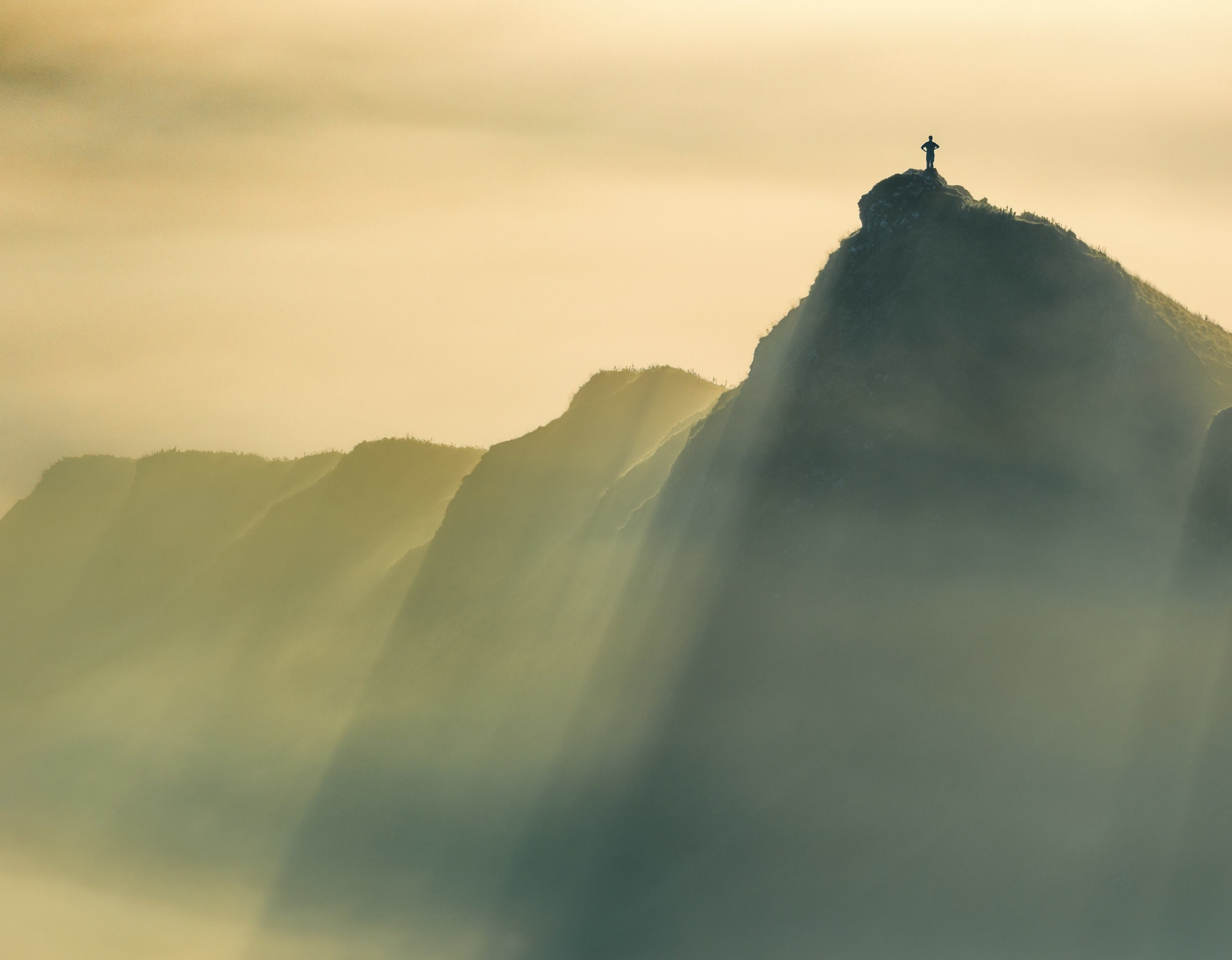 3. Accelerating shifts and long-term opportunities
Our other responsibility on our clients' behalf is to step back to continue calmly weighing up whether any of the recent events are likely to affect companies' ability to grow to many multiples of their current size over the next decade or so. It is too early to say for sure of course but an initial hypothesis is that the response to the coronavirus is likely to hasten some of the trends that have excited us in recent years.
Online food delivery penetration has accelerated sharply. Companies, such as Delivery Hero and Meituan Dianping, have seen a surge in demand for their services. Amid the lockdowns, the deserted streets in Chinese Tier 1 cities recently presented Meituan with the perfect opportunity to accelerate the testing and deployment of their autonomous delivery robots.
Sports, entertainment and exercise have moved further online and into the home. This is a shift that extends beyond the obvious candidates, such as Spotify, Netease and Neflix. NBA's suspended season is continuing on the Amazon Twitch platform. Formula One is following suit with virtual races on the channels run by Amazon, Facebook and Alphabet. Meanwhile, Peloton's online fitness class membership is surging as high street gyms are shuttered.
Emergent trends in the workplace have accelerated. We have seen perhaps five years of structural change shoehorned into a couple of months here and, in a portfolio context, the timing of our new purchase in Zoom has proved fortuitous. The structural growth opportunity for their video conferencing services was clear to us but the twin propellants of widespread travel bans and enforced home working have accelerated adoption more rapidly than our blue-sky scenario could have envisaged. Atlassian's remote working tools enjoy similar dynamics. The coronavirus has, within the space of a couple of months, completely changed perceptions of where and how the white-collar workforce should operate, so this feels like far more than simply a cyclical shot in the arm.
This crisis also looks to be underlining the criticality of gene sequencing in general and Illumina specifically. Illumina's CEO, Francis deSouza went to Wuhan himself to oversee the sequencing of the coronavirus – a process which took just a few days, compared to six months for SARS in 2003. This pace of change highlights the transformational opportunity for Illumina in a world where ongoing testing and checking become the norm, even if the temporary closure of some research facilities results in a short-term dip in operational performance.
By the same token, recent events must surely accelerate the end of fossil fuels. The response of Saudi and Russia to a 20 million barrel collapse in daily demand seems to suggest that they know they are sitting on assets that will prove stranded even sooner than previously thought.
But Dr Pangloss needs to be kept in check here. It would be remiss not to acknowledge that around 40% of household spending is vulnerable to people shunning gatherings. The large platforms' ad spend will probably take a near-term hit. So too will near-term demand for the offerings of L'Oréal, Kering and Hermès. Collectively though, these companies have weathered depressions and world wars. We are confident that the cultural attributes that have enabled them to weather such events remain intact.
Live-broadcast Twitch streams are replacing sports events
© Getty Images North America
4. Getting out more
With the markets gorging on local informational junk food and whipsawing accordingly, it is important to avoid parochialism. In hindsight, it seems remarkable that the equity markets continued to forge ahead as the virus peaked in China, even as the likelihood of rapid global contagion became apparent. It was only as those in London, Wall Street and Frankfurt began to experience the personal effects, that the sell-off began and, by then, China was returning to work.
So, while we are housebound here in Edinburgh (and, thanks to Zoom's technology, learning a great deal about our colleagues' taste in home décor) our colleagues in Shanghai are back in the office and offering some valuable anecdotal context as the coronavirus rapidly abates there. As we looked at Tesla's burn rate in the light of a temporary US factory closure (it seems far better placed than other auto companies, thanks partly to a prescient recent equity raise), our Shanghai colleagues pointed out that Tesla's Shanghai stores are packed to the gunwales with eager buyers. Since the coronavirus, no one wants to use public transport and the quickest way to car ownership in most large cities, is by purchasing electric vehicles.
In a similar vein, we have heard stories of previously shuttered Chinese gyms realising, post reopening, that their hurriedly established online classes on Tencent's WeChat ecosystem are, in fact, far more lucrative to them and they are shifting permanently online.
What next?
The effects of this pandemic will, in all likelihood, endure for a long while. At this stage, it is not clear that any government has a clear exit strategy. As restrictions are lifted, we cannot say for sure that the coronavirus boil, once lanced, will not resurface again. And throughout, as always, the poor and vulnerable will be hit disproportionately. At the time of writing, the world's largest democracy – an often chaotic one – is attempting to lock down 1.3 billion people. This is a daunting prospect and, if it proves futile, the personal tragedy and economic hardship will be amplified. But amid the short-term turmoil, longer-term questions spring to mind.
The geopolitical ramifications are particularly interesting. With the western economy hitting a brick wall and the US experiencing the biggest ever spike in unemployment, China appears to be largely back on track, with some elements of its emergent technological leadership considerably reinforced. When neither America nor Europe were able to answer Italy's urgent appeal for medical equipment, China announced that it was sending millions of masks and thousands of respirators, protective suits and test kits. The status of the United States as a global leader over the past seven decades has been built not just on wealth and power but also on the legitimacy that has stemmed from its ability and willingness to lead in its response to crises. With Beijing seen as leading, and Washington now unable or unwilling to do so, the global economic tide appears to be shifting even faster than we had anticipated. China's $13 trillion bond market is beginning to look suspiciously like a safe haven for some global investors and the whole notion of "China risk" needs to be recalibrated. With diplomatic relations between the world's two largest economies at their lowest ebb for decades, it is also time to reflect on whether the sun is setting on an era of global and heavily outsourced supply chains. Vertical integration may increasingly be the way forward.
At a regulatory level, reappraisal is also required. The data privacy debate is firmly on hold as the US government works with Facebook, Google and others to monitor citizens' location data and ensure safe social distancing. The data sovereignty question is also back up for grabs as the EU backtracks on its recent calls for European artificial intelligence (AI) algorithms to be trained on European data, as it realises that vaccine development needs to be based on as large a global dataset as possible. Will these volte-faces prove temporary or more structural?
We have already learned a lot about our social tapestry and we will learn a lot more in the weeks to come. In the early days of the outbreak, confined Italians kept their spirits up by singing opera, while here in the UK, panic buying sprees set in. With patterns very much postcode dependant, some supermarkets were immediately stripped of Coca Cola and cigarettes, whereas others sold out of claret and pesto.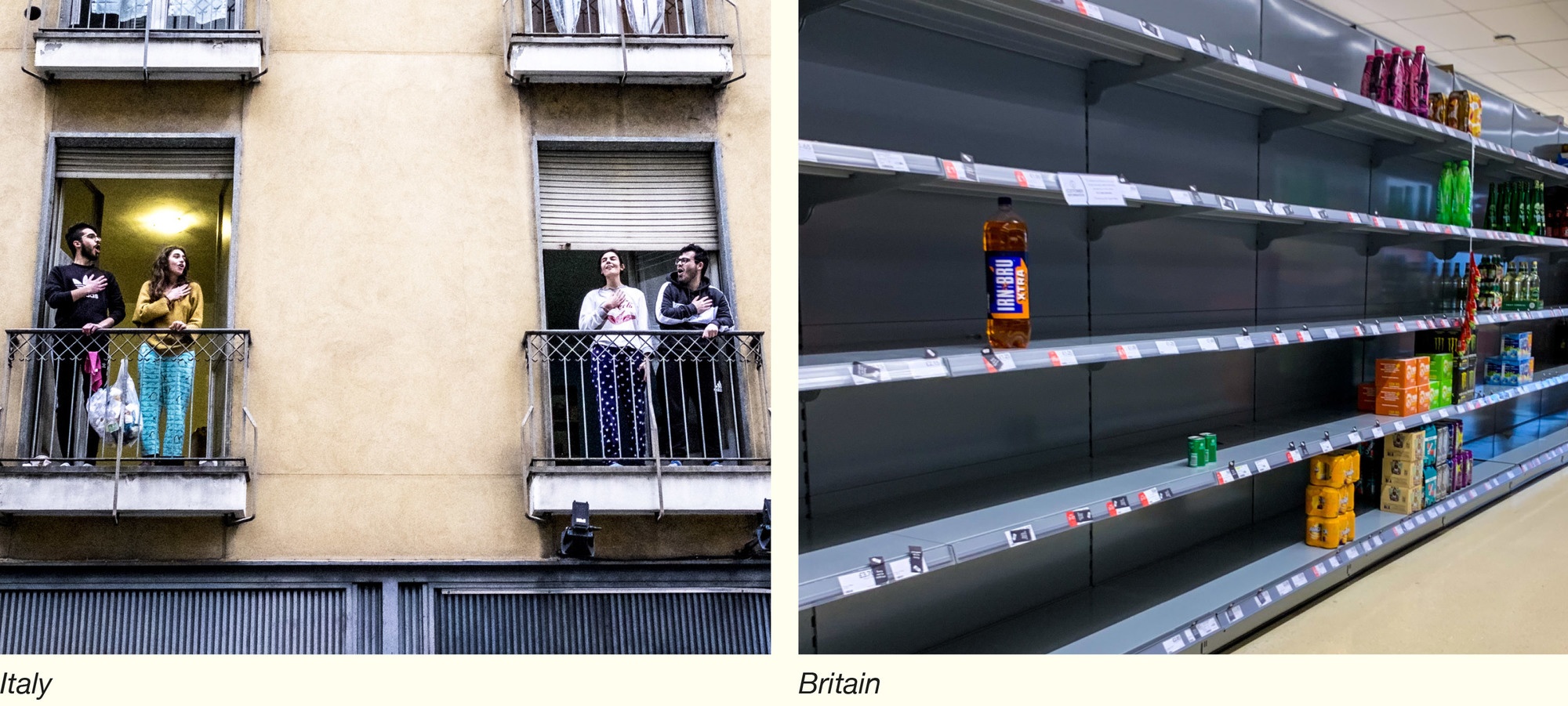 © Mandadori Portfolio/Getty Images 
© NurPhoto/Getty Images
Looking ahead, some social changes may be relatively cosmetic and temporary. How will hairstyles evolve after weeks of padlocked barber shops? Will the handshake, now a disease transmission mechanism, ever regain its social place as a sign of trust? Other adjustments may prove more enduring. Enforced temperance might accelerate the generational shift towards buying and having less. Demand for virtual experiences might overtake demand for physical ones more rapidly than we had previously supposed.
On the environmental front, a physical shock like the coronavirus reminds us that the world is a very physical place where things can go wrong very quickly, precisely as scientists have been trying to point out in the context of the climate crisis. When certain practices are unsustainable, reality bites hard and quickly. Some posit that pandemics are a function of accelerating biodiversity loss and so we need to be ready for more of them1. But more positively, people have nimbly learned new work patterns, realising that travelling to a central location each day, or flying to a conference each month, may be the result of inertia, more than anything else. Pollution has already plummeted in many Asian cities. By some estimates, the cleaner air has already saved the lives of 4,000 children under five and over 70,000 adults over 70 in China. If these behavioural changes are permanent, the carbon savings may be material.
At an industrial level, a massive Darwinian shake out seems likely, with decade-long structural shifts compressed into a couple of years. Just as in the natural world, when the environment changes quickly, entire species can vanish, but some have mutations that suddenly give them an advantage. An economic crisis always tilts the playing field in favour of innovation and the most adaptable companies with business models built for the current century rather than the last one seem most likely to flourish. Inflexible monoliths built on the "shareholder value" mantra seem badly exposed. The auto industry is a prime example because there is a good chance that we will see massive capacity consolidation, accelerating the shift to electric vehicles and ultimately autonomous driving – though the extent of the shakeout will heavily depend on the magnitude and direction of governmental support.
A More Robust Future
Investment historians derive some solace from the observation that the equity markets' reaction to epidemics and pandemics has historically been short-lived. SARS, Swine Flu, MMR and Ebola register as blips on the long-term charts. When Spanish flu finally subsided in 1919 (having infected 27 per cent of the world's population) the market rose 50 per cent. But these comparisons are of limited value and the seriousness of humankind's immediate predicament is not to be underestimated. The coming months and years will be testing.
But, after this wildfire, green shoots will emerge. Perhaps we will look back on 2020 as the year in which the old risk models finally rolled over, with the low-tracking-error index stalwarts hung out to dry and many internet-based business models proving anti-fragile. Perhaps this shock will make listed companies less complacent and less fearful of experimenting. Perhaps it will make them invest more and think a little longer term.
If that happens, both the stock market and the broader economy might end up more resilient as a result.
1. David Quammen, author of Spillover: Animal Infections and the Next Pandemic, recently wrote in the New York Times. "We cut the trees; we kill the animals, we disrupt ecosystems, and we shake viruses loose from their natural hosts. When that happens, they need a new host. Often, we are it." The US Centers for Disease Control and Prevention (CDC) estimates that three-quarters of new or emerging diseases that infect humans originate in animals.