It's 40 years since the Sony Walkman transformed forever the way we listen to music and interact with the world. It's been so long since Japan produced a device recognised universally as cool that many assume that its manufacturers have lost competitive edge to their Chinese or South Korean counterparts.
Nothing could be further from the truth.

Away from the big 'old-world' electronics and car companies, over time Japanese firms have shifted to specialising in niche areas. There they have become world-beaters. 
Sustaining a market advantage means being adaptable and Shin Nippon seeks out companies capable of change. Identifying them involves constant reading and discussion with many sources, and knowing how this or that industrial trend has taken root in the US or the UK and might apply to Japan. It involves thinking creatively about where the next wave of disruption might come from and predicting the likely course of rapidly-changing industries. 
The companies we discover through this process tend to be fast-growing and disruptive. They are often run by young, dynamic entrepreneurs, or by a founding family which retains a big stake. Although usually few outside Japan will have heard of them, in some cases they can have as much as 50–60 per cent global market share, often in fast-growing segments.
Take robotics. Some of the world's largest robot makers are from Japan, where they face heavy international competition. Further down the supply chain, many small niche companies make the mission-critical components. 
Today's competitive disruptors are not always online companies, nor are they necessarily start-ups. 
Noritsu Koki, in business since the 1950s, is a company that has rediscovered its earlier entrepreneurial spirit. It was a global leader in paper-based photo processing equipment. Its traditionalist founder, Kanichi Nishimoto, ignored the fundamental shift towards digital photography and it became a victim of disruption. Following his death in 2005, his young and dynamic son-in-law Hirotsugu Nishimoto took over the firm. He sold every vestige of the legacy operations and re-invested the proceeds in a portfolio of exciting healthcare-related businesses. 
Incredibly, and despite such dramatic change, the market retains an outdated view of Noritsu Koki and has struggled to appreciate a winning combination of 'soft' factors such as dynamic management, an adaptable business model and early investment in emerging healthcare technology companies. In 2015, for example, its Neos + Care system became the first patient-monitoring robot to be certified by the Japanese government.
Patient being monitored by a robot.
Some companies can be successful over long periods without being as aggressively innovative as Noritsu. IRISO Electronics is an example. It makes connectors used to link electronic components within cars. 
There's nothing especially sexy about connectors and many companies operate in this space. But despite this, IRISO has built an impressive long-term record from intense focus on its core business as well as management's ability to move towards new growth areas. IRISO used to generate most of its sales from makers of in-car entertainment equipment, but it seized the opportunity offered by autonomous cars. Now the company is developing connectors for robots, another new growth area.
Assessing the cut-through potential of a competitive position is especially tricky in young companies with no track record. An extreme example is biotech companies that make little or no profit for years and where the probability of long-term success is small. 
One company, Healios, has assembled the building blocks of future competitive edge. One of Japan's leading biotech companies, it uses 'induced pluripotent stem cells' (iPSC) to develop a cure for blindness in later life. There are few experts in iPSC globally and Healios is an advanced player in an area with a large target patient population but no cure. Unlike, say, oncology the field isn't crowded with competing medical solutions. 
Its young founder, Dr Hardy Kagimoto, an ophthalmologist, has already commercialised successful medical innovations, such as ILM Blue, a dye used in eye surgery to mark out the retina for removal. His rare combination of amazing scientific ability and understanding of business and finance could give Healios an edge should its drug programme succeed.
Today's competitive disruptors are not always online companies…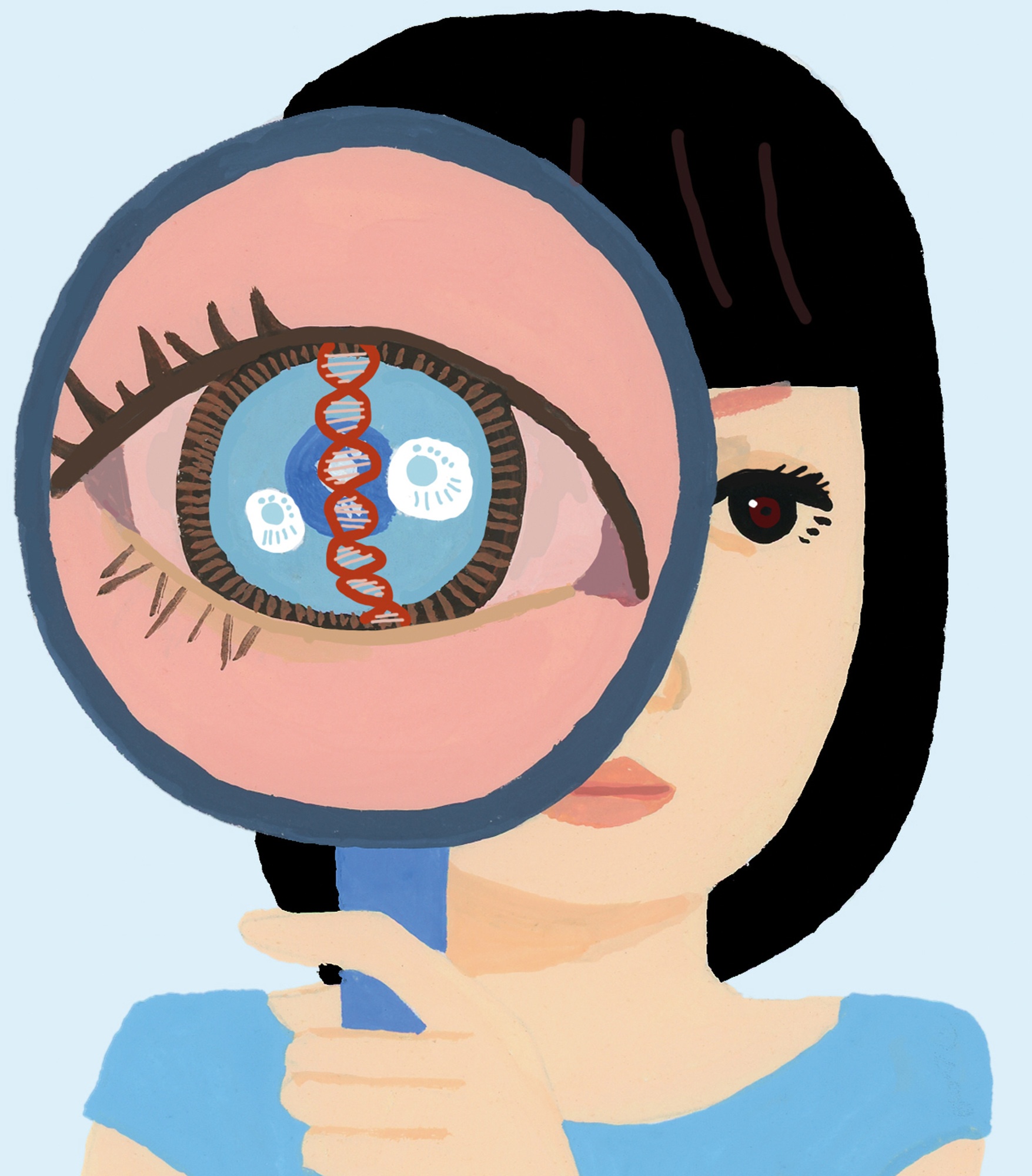 Healios is developing a cure for blindness.
Many small entrepreneurial companies emerge from a problem which needs solving. The result is fast-growing businesses that are creating entirely new markets. Bengo4.com (bengoshi is Japanese for lawyer) was set up by Taichiro Motoe following a road accident when he found it difficult to hire an experienced lawyer. In 2005 he started Bengo4.com as an online shop window for legal advice, connecting lawyers with potential clients. Now over one-third of all the lawyers in Japan are signed up to this portal. The company has created a whole new market for online legal advice and has begun to monetise it.
Advantage in this case stems from a combination of a visionary founder and a unique business model built around a compelling product offering. Such qualitative adjectives can be hard for conventional analysts to quantify and model. 
Clearly there is no standard assessment of a company's market edge, as no two companies are ever the same, even those operating in the same industry. In most cases our view derives from a collection of seemingly mundane and intangible characteristics downplayed by conventional analysis, mostly due to intellectual laziness.
The key to thinking flexibly and creatively about competitive advantage is to focus on what might give a strong and sustainable edge in the future, rather than getting too hung up on the present.