What quality allows a company not just to survive the destruction of its bread and butter business model but to disrupt itself to become the market leader? According to Gary Robinson the answer is to be found in a company's culture. This separates exceptional growth companies from average ones.
For Robinson, cultural strength explains why Netflix, which started out as a DVD mail subscription service, is now the world's largest content streaming provider. Conversely, cultural weakness explains why Kodak filed for bankruptcy in 2012 having fumbled for a decade to deal with the rise of digital photography.
"The critical cultural determinant in Netflix's case was the founder, Reed Hastings," explains Robinson. "He had the moral authority necessary to allocate capital away from the larger, cash-generative DVD hire business, and towards what at the time was a much smaller business, online streaming.
"In order to do that you have to battle a lot of vested interests internally, because the weight of the organisation is still in the old business, along with the human and physical capital. It is vanishingly rare for chief executives to pull off something like that, and it's entirely due to a founder-created culture."
Netflix is currently a top five holding in the Baillie Gifford US Growth Trust. Robinson regards spotting such rarities and backing them over five-to-ten years as one of the core strengths of Baillie Gifford's low turnover style.   
As Robinson describes it, the quest for "true outliers" is largely down to understanding an "intangible" cultural quality in companies. Components include readiness to innovate and to engage employees at all levels of the company with a shared mission. 
"At the risk of oversimplifying, companies with distinctive cultures are generally those that are in it for the long term," says Robinson. "Most companies in America aren't run that way. They are run by corporate management teams incentivised for the short and medium term. They would rather buy back stock, boost their earnings-per-share, beat their bonus targets and collect their pay cheques than invest in projects with long-term timeframes and uncertain outcomes.
"We are looking for companies that behave in a different way, companies that think long term, that are willing to embrace risk, and willing to invest for the future. We then hold on to them for long periods of time to capture the potential upside inherent in their business models."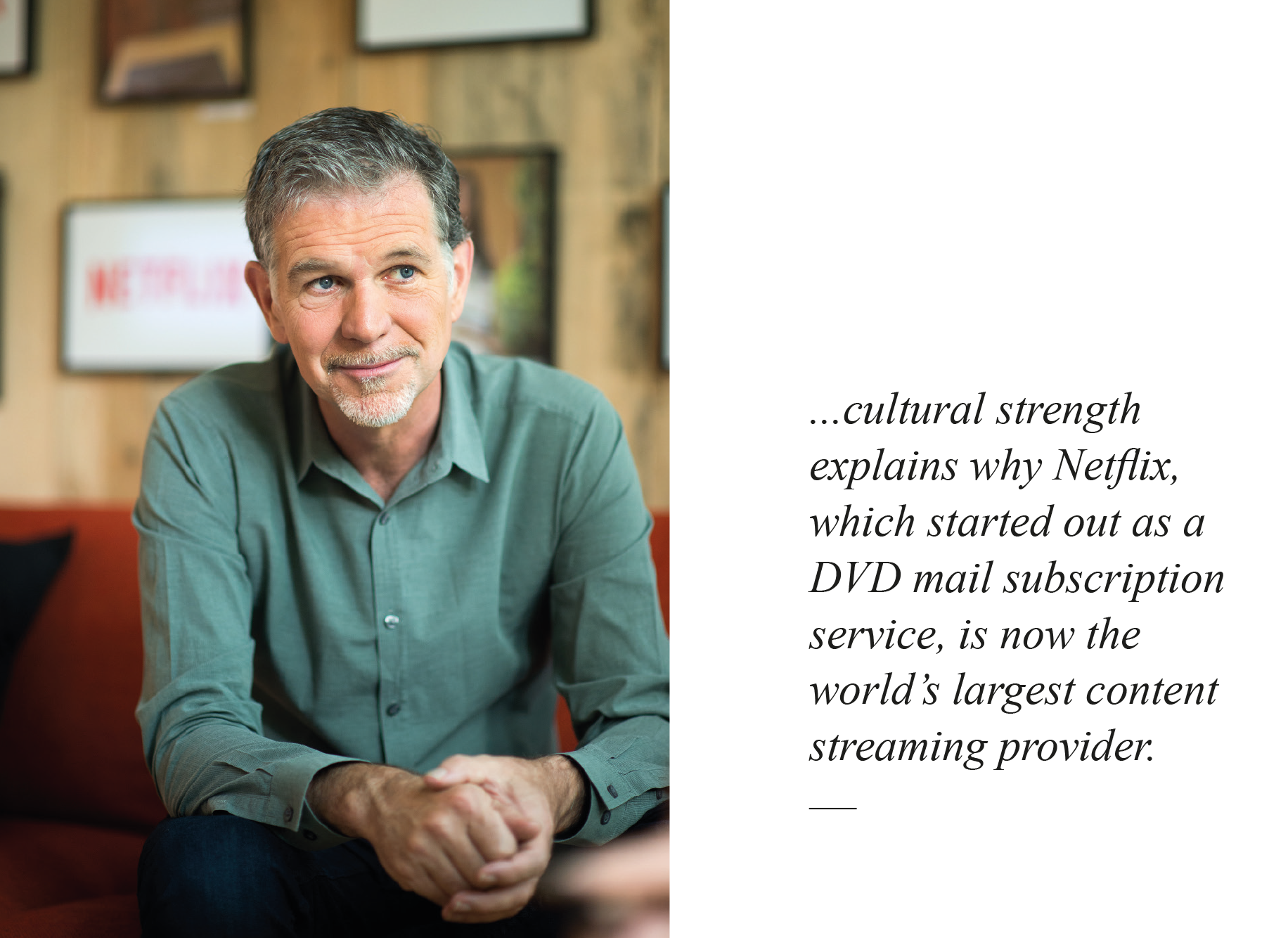 Reed Hastings, CEO of Netflix.
© DPA/PA Images.
Candidate companies for inclusion in his portfolios are, he says, screened for the distinctiveness of their cultural attributes. The checklist of questions starts with: "What is the point of this company and what are its long-term ambitions? And secondly, does the company possess a significant culture and is this a source of competitive advantage?"
Robinson expresses surprise that so few investors seem to care about culture, a reflection, he suggests, of the market's bias to shorter timeframes. He recalls one chief executive, Katrina Lake of Stitch Fix (see next page), telling him that he was the only person who raised the issue when she met investors before the company's Nasdaq listing. 
It is no coincidence that founder-led businesses such as Netflix, Amazon, Stitch Fix and Grubhub typically comprise around 70 per cent of the Baillie Gifford US Growth Trust's holdings, while our research suggests they only account for around 25 per cent of the total US stock market.
"Founders embrace risk, and as with Reed Hastings at Netflix, Katrina Lake at Stitch Fix or Jeff Bezos at Amazon, are willing to invest in the future at the expense of short-term profits," Robinson adds. "They are able to navigate changing circumstances and unlock new growth opportunities that aren't always apparent at the time of our initial investment."
Robinson notes that many managers seem ignorant of what corporate culture even means, confusing it with gimmicks or PR spin. "It's not perks or crazy offices with slides from one floor to the next," he says. "It's about the shared values of the company and how it behaves. It's about what the founders and the management teams say they want to do and how that relates to what they actually do over time.
"Ambition, vision, determination, risk-seeking… the outputs of a strong culture are difficult to measure precisely. But just because something is hard to measure doesn't mean that you shouldn't try. In fact we would argue the opposite. When something is hard it presents an opportunity for us to add significant value by analysing it and spending time on it."
Robinson emphasises that a firm's culture cannot be determined from presentations at broker-sponsored conferences, any more than it can from a balance sheet or a set of results.
It takes shoe leather and air miles to distinguish good cultures from good spin. In the past Robinson has spent months in the US, burrowing into culturally compelling company stories in hot spots such as the Boston or San Francisco healthcare clusters.
In addition, Baillie Gifford's retained network of US researchers are well briefed on what cultural attributes to look for in up-and-coming unlisted companies.   
"The easier information is to find, the less valuable that information is," Robinson says.
Over the decades, Baillie Gifford's quest for outperformance has sharpened its antennae for growth-oriented corporate cultures capable of defying Wall Street noise for long-term reward. The characteristics that the Baillie Gifford US Growth Trust shares with culturally compatible companies is a willingness to look very different from its peers, to challenge itself, to embrace uncertainty and to ride out cyclical volatility.
It is, as Robinson phrases it, "really simple, but difficult to do". This explains why companies with the right culture – and the investors who understand them best – tend to stand out from the crowd.