Archived
Kering: an empire of luxury fashion houses with creative freedom
Key Points
Kering draws strength from the disparate identities of its fashion houses, which include Gucci, Balenciaga, Bottega Veneta and Saint Laurent
Each luxury brand has the freedom to develop its vision while benefiting from the parent group's support
This encourages them to take the creative risks required to meet their customers' desire for self-expression
© Getty Images Europe
Please remember that the value of an investment can fall and you may not get back the amount invested. This article originally featured in Baillie Gifford's Autumn 2022 issue of Trust magazine.
Luxury brands draw power from their heritage. But it's creativity that drives their future. Designers craft each collection's dresses, shoes and handbags using elements of surprise and reinvention while continuing to recognise each fashion house's identity.
Gen Z and Y customers are notable for two traits: prizing authenticity and curiosity about innovation. These under-40s will be responsible for up to 70 per cent of the luxury sector's sales by 2025, according to market research by Bain-Altagamma, more than compensating for slower demand from their elders.
Creating goods for this cohort takes vision and daring. That's why Kering's chief executive François-Henri Pinault gives each of the group's 10 fashion houses creative freedom while letting them draw on the parent company's business expertise.
Luxury industry growth
broken down by generation
Source: Bain-Altagamma, November 2021.
This means Kering's smaller houses don't live under the shadow of its biggest brand, Gucci. Instead their creative directors are empowered to take risks.
Their creations spark love-it-or-hate-it reactions. And Pinault says younger shoppers take advantage of this to signal the communities they belong to, both in the physical world and online.
In 2021, Balenciaga nudged Gucci aside to lead the Lyst Index's influential ranking of fashion's hottest brands. The report draws on shopper behaviour, Google data and social media activity.
And over the past couple of years, Bottega Veneta and Saint Laurent have also achieved faster revenue and profit growth than their larger stablemate. Let's look at three of these smaller houses in more detail...
The Intrecciato weave is iconic. Thin strips of leather feed through tiny staggered slits in a hidden underlayer to become more durable. It was driven by necessity: in the 1970s, the firm lacked sewing machines powerful enough to handle thicker versions of the material.
The fashion house has become synonymous with a vibrant shade of 'parakeet' green. The distinctive hue has helped recent collections stand out. It could become an enduring signature colour, like Christian Louboutin red or Hermès orange.
© Getty Images Europe
© Getty Images Europe
Bottega Veneta's reputation has been revitalised under Kering's ownership. It made a first appearance in the Lyst Index of the 20 hottest fashion brands in 2019. And it has remained there ever since.

The new creative director, Matthieu Blazy, wants to build on the brand's artisinal roots. He told The Business of Fashion: "Craft for me is timeless. What I question is the obsession with that, in always trying to make something that looks visually new, you have to use a new technology. I think it's wrong."
© MIGUEL MEDINA/AFP/Getty Images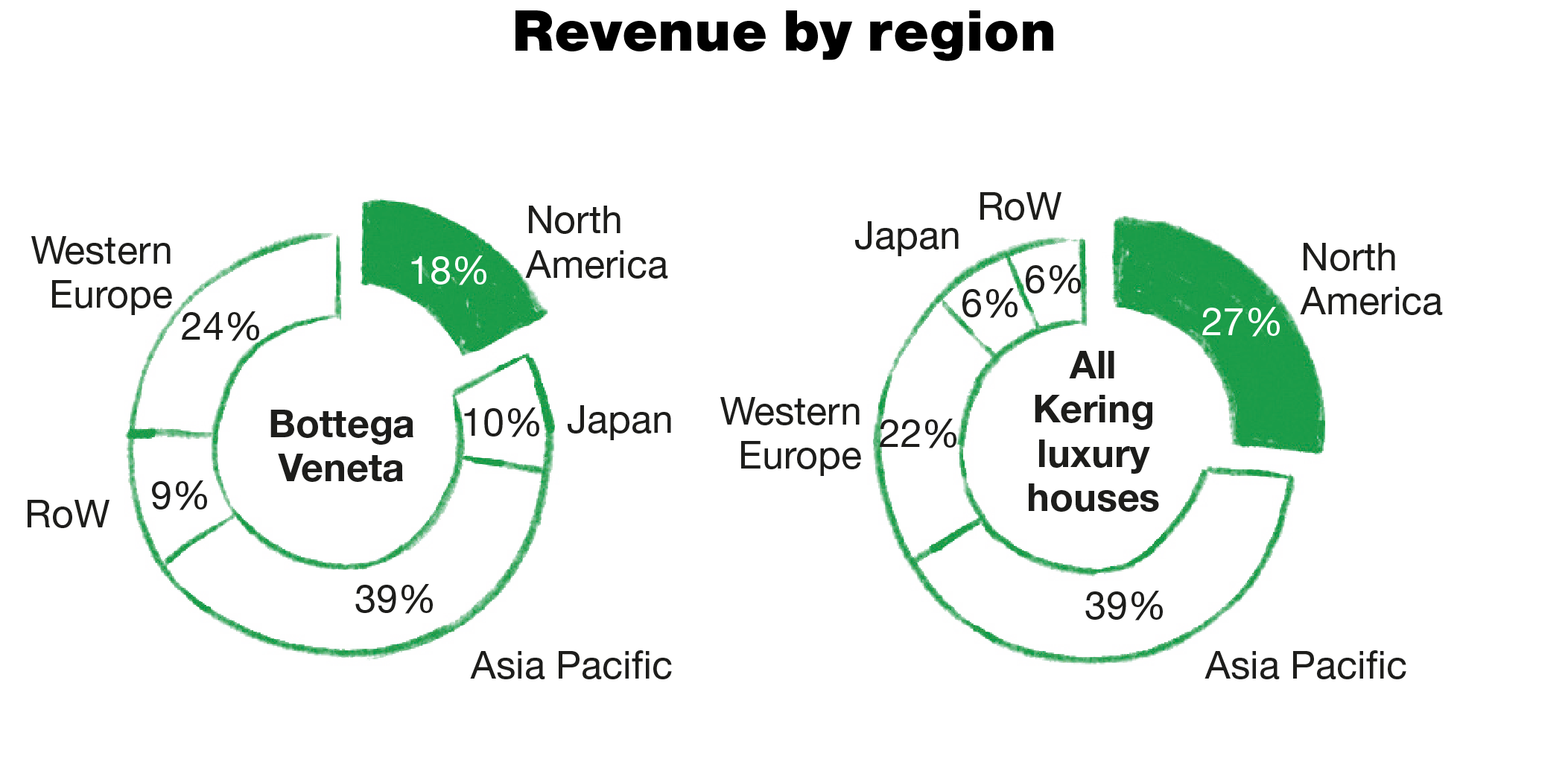 Source:  Kering Activity Report 2021.
Growing appeal in the US and Canada
Bottega Veneta is enjoying strong growth in North America. The area accounted for 18 per cent of its global sales in 2021, up from 11 per cent three years before. (In dollar terms, it more than doubled its takings.)
But there's still a large gap to catch up with Kering's wider North American market share, suggesting ample room for further growth.

The house's founder Cristóbal Balenciaga was renowned for pioneering new shapes in fashion. Many involved forming unusual spaces between the wearer's body and garment. Echoes of this can be seen in his successors' designs, as modelled in the image on the right of the singer Justin Bieber.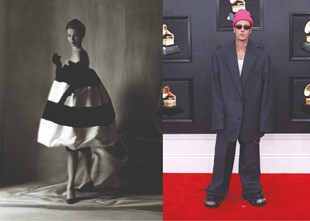 © Getty Images North America (RHS)
Balenciaga's crossovers with other brands bolster its renegade reputation. They range from Hello Kitty to Kanye West's Yeezy Gap, by way of tie-ups with Crocs and Adidas. Balenciaga even formed a 'hacker project' with Gucci that subverted its partner's classic designs.

Balenciaga generates hype on social media thanks to eye-catching stunts such as mummifying 'brand ambassador' Kim Kardashian in a catsuit made of tape (worn by a model in image).

The fashion house has made early moves into the metaverse. A partnership with Epic's video game Fortnite allowed players to buy limited edition clothes, shoes and accessories to dress their avatars. And Balenciaga created digital clones of leading fashion models to debut its Spring/Summer 2022 collection.

Brand value growth
IFDAQ tracks the value of luxury brands by creating a score based on their marketing efforts, influence and global demand. This score is designed to anticipate future sales.
According to its data, Balenciaga and Gucci's brands are both growing in value, but the former is doing so at a faster rate.

Source: IFDAQ/Statista.
© STAFF/AFP/Getty Images (RHS)
French designer Yves Saint Laurent (centre in image on left) revolutionised 20th century fashion. He subverted gender stereotypes, drew on eclectic sources of inspiration and championed diversity on the catwalk. He was also the first couturier to launch a large-scale ready-to-wear line. The brand was shortened to Saint Laurent in 2012 but continues to capitalise on its rich heritage.
Today, the house has a reputation for "chic Parisian flair infused with rock 'n' roll edge" and for continuing to set its own agenda rather than following others' trends.

The strength of Saint Laurent's brand has led François-Henri Pinault to comment that the average selling price of its handbags could double over the next five years.
© Getty Images Europe (LHS), © Corbis/Getty Images (RHS)
Saint Laurent made headlines in 2021 when it dropped animal fur, ending Kering's use of the product. But it continues to embrace the look, using 'faux fur' equivalents. As its show notes for one catwalk show put it: "Restraint need not be joyless."
At the time of publication, in addition to Scottish Mortgage, the following trusts were invested in Kering:
---
Kering - European Growth Trust, SAINTS
---
Investments with exposure to overseas securities can be affected by changing stock market conditions and currency rates.
The views expressed in this article should not be considered as advice or a recommendation to buy, sell or hold a particular investment. The article contains information and opinion on investments that does not constitute independent investment research, and is therefore not subject to the protections afforded to independent research.
Some of the views expressed are not necessarily those of Baillie Gifford. Investment markets and conditions can change rapidly, therefore the views expressed should not be taken as statements of fact nor should reliance be placed on them when making investment decisions.
Baillie Gifford & Co Limited is wholly owned by Baillie Gifford & Co. Both companies are authorised and regulated by the Financial Conduct Authority and are based at: Calton Square, 1 Greenside Row, Edinburgh EH1 3AN.
The investment trusts managed by Baillie Gifford & Co Limited are listed on the London Stock Exchange and are not authorised or regulated by the Financial Conduct Authority.
A Key Information Document is available by visiting bailliegifford.com