In brief
The stories behind the trusts.
Please remember that the value of an investment can fall and you may not get back the amount invested.


Three letters, one site
The explosion of interest in companies' environmental, social and governance (ESG) credentials marks a sea-change in how many of us see the role of investment – and investment managers.
But while a focus on sustainable investing is wholly positive, some of its side effects are not. Crude ESG 'scores' don't always reflect the complexities and subtleties of long-term growth investing and are unlikely to make the world a better place or guarantee attractive investment returns.
To read more about Baillie Gifford's more nuanced views on ESG, check out our new site bailliegifford.com/esg, which brings together the latest thought-provoking articles from across the firm, spelling out the past, present and future of Baillie Gifford's thinking on ESG and how progress can and should be measured.
Which Baillie Gifford-managed investment trust was founded on the site of a friary in medieval London? What links that giant of the post-war City of London, Sir Siegmund Warburg, to sustainable investors Keystone Positive Change Investment Trust? How did a globally minded investment company end up with the name 'Scottish Mortgage'?
You can find answers to these questions and many more in Baillie Gifford's online series of trust histories, which reveal the origins and fluctuating fortunes of the 12 investment trusts now managed by the firm.
In these histories, financial historian John Newlands traces the colourful stories of each trust and tells of the often larger-than-life characters who led them through boom, bust, war, recession and financial revolution.
Go to bailliegifford.com/histories to read the extraordinary story of how – measured by assets under management – Baillie Gifford became the largest manager of UK-listed investment trusts.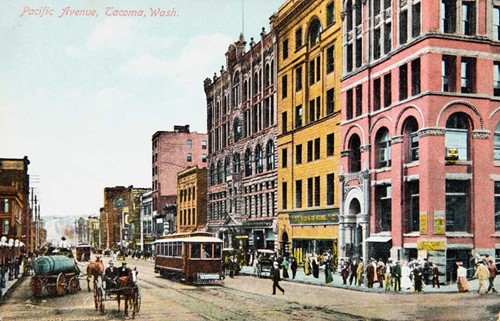 Tacoma, Washington. In 1910 Tacoma Land Investment Company was Scottish Mortgage's first US investment
© This Old Postcard/Alamy Stock Photo
Merger with Monks
The boards of The Monks Investment Trust and The Independent Investment Trust are seeking to merge the two companies. The plan is subject to approval by shareholders in both trusts at meetings expected to be held in October 2022.
The Edinburgh-based Independent Investment Trust, founded in 2000, had £263m of assets under management as of 26 July 2022. It is managed by Max Ward, who has announced his intention to retire. The merger would see Independent Investment Trust shareholders being offered either shares in Monks or a cash exit.
Monks has been managed by Baillie Gifford since 1931. The Trust held £2.7bn in assets on 26 July 2022.
Max Ward is a former Baillie Gifford partner and managed Scottish Mortgage from 1989 to 2000.
What comes to mind when you think of 'education'? For many of us, it's a teacher dispensing knowledge in front of a roomful of students.
Time to revise that mental picture, according to Thaiha Nguyen, part of the Keystone Positive Change Investment Trust team. In a recent episode of our Short Briefings on Long Term Thinking podcast, Nguyen looks at how technology is changing the way we learn and creating opportunities for innovators.
As she explains, it's given rise to an exciting new group of companies, from the language teaching app Duolingo to online 'lifelong learning' specialists Coursera.
To learn more about the disruption of education, as well as a host of other timely topics, go to our podcast page bailliegifford.com/podcasts. Other subjects to choose from include the benefits of private investing, what's so great about Swedish companies and why the 'value versus growth' debate misses the point.
You can subscribe to the series via Apple Podcasts, Spotify or TuneIn. If you like what you hear, feel free to post a review and share.
The views expressed in this article should not be considered as advice or a recommendation to buy, sell or hold a particular investment. The article contains information and opinion on investments that does not constitute independent investment research, and is therefore not subject to the protections afforded to independent research.
Some of the views expressed are not necessarily those of Baillie Gifford. Investment markets and conditions can change rapidly, therefore the views expressed should not be taken as statements of fact nor should reliance be placed on them when making investment decisions.
Baillie Gifford & Co Limited is wholly owned by Baillie Gifford & Co. Both companies are authorised and regulated by the Financial Conduct Authority and are based at: Calton Square, 1 Greenside Row, Edinburgh EH1 3AN.
The investment trusts managed by Baillie Gifford & Co Limited are listed on the London Stock Exchange and are not authorised or regulated by the Financial Conduct Authority.
A Key Information Document is available by visiting bailliegifford.com