Illustration of a surgical robot. Surgical robots use Harmonic Drive speed reducers to afford required levels of precision.
Keeping up with technology
Four major technological innovations could disrupt the robotics industry and transform the competitive landscape. They are: the improved connectivity of 5G cellular networks and accompanying proliferation of Internet-of-Things (IoT)-enabled devices; advances in artificial intelligence (AI) and machine learning; improved access to information on the cloud; and a new category of robots allowing greater dexterity and safer interaction with humans. 
The big players have varying levels of commitment to investing in these new areas. However, they all share a willingness to collaborate with other companies globally and to skill up where necessary. This is encouraging, particularly for the Japanese companies long accused of remaining insulated from foreign innovation. 
Among the big four, Fanuc and ABB stand out for their commitment to exploring these new opportunities. Fanuc works closely with US firm Rockwell Automation, renowned for computers that control machine tools remotely. Unlike CNCs, they are open source and not tied to specific hardware. 
Fanuc has developed the 'FIELD' open source connected platform in conjunction with Rockwell Automation. Targeted first at their existing customers, FIELD allows machines across the factory floor to talk to each other, reducing downtime by allowing remote and predictive maintenance. 
To accelerate this capability in collaborative robotics, Fanuc embarked on a rare acquisition, buying fellow-Japanese company Life Robotics. It also invested in its fellow-Japanese machine learning specialist Preferred Networks. It has leveraged that firm's expertise to design a new range of picking robots that use deep reinforced learning to improve accuracy. Fanuc accepts lower short-term profitability as the price of investment in future growth. 
Swiss conglomerate ABB has developed a cloud-based open source platform called Ability, in partnership with Microsoft and IBM, as well as German pneumatic equipment specialist Festo. It can connect with multiple devices, support remote diagnostics, and conduct maintenance and training using augmented reality. Through its corporate venture capital arm ABB also purchased Vicarious, a Silicon Valley AI research firm, and has announced a new robot factory in Shanghai, due to open in 2021. 
The other big four companies, Germany's KUKA and Japan's Yaskawa, seem to have made only tentative investment in new areas. KUKA was consumed by a takeover by Chinese appliance producer Midea Group in 2016. Since then integration challenges have reduced profitability, with little evidence of genuine innovation. In its annual report the company refers to the 'KUKA SmartProduction Center' developed with Munich Re, which has a stated aim of digitising the production process, as well as improving efficiency, quality and flexibility.  Remaining in a development phase it is difficult to judge the likely impact of this new platform. The German firm was conspicuously absent from the 2019 Hannover Messe, one of the world's largest industrial technology fairs, happening on its own doorstep. 
Interestingly, Yaskawa established a joint venture with Midea Group in 2015 to research and develop 'cobots', collaborative robots that work safely with humans. It has since released one model used in auto assembly. Management is keen to highlight a new data management tool named Yaskawa Cockpit and a smart factory concept that uses the IoT and AI, but there is little sign of progress so far. 
In robotic components, most investment has been directed at enhancing existing product ranges. Two exceptions are Nidec and SMC. Nidec has been making acquisitions in robotics to expand its offering from niche components (notably gears) to complete solutions. SMC has committed some of its investment budget to electric machinery which now commands a small proportion of sales. Electric equipment is lighter, more efficient and needs less maintenance than its pneumatic equivalent, but it remains too expensive for most. Although it may be several years away from gaining traction with the mass market, it seems unwise to discount SMC's ability to leverage its scale, reduce costs and engender demand. 
© Getty Images AsiaPac.
The challenge from China
Before looking at the new entrants from China it is worth considering Chinese Government policy. Robotics and automation feature prominently in 'Made in China 2025', Premier Li Keqiang's strategy to move from low cost goods to higher value products and services. The plan aims to raise the share of domestically made robots and key robotic components to 70 per cent within six years. As things stand only 30 per cent of industrial robots and 20 per cent of critical robotic components are made in China.
Beijing has been heavily subsidising the domestic industry to achieve this ambitious goal. It is estimated that government handouts accounted for 44 per cent of net profit for 53 listed Chinese robotic companies in 2018, a sharp rise from the 10 per cent recorded between 2012 and 2017 and there are around 100 subsidised robotics firms in total.
AI is also attracting large amounts of government funding. The Shanghai Municipal Government plans to invest over $14 billion setting up a dedicated fund, supporting emerging AI technologies and hosting six demonstration zones. One of these will be a 66,000 square-metre zone which will serve as a prototype, with programmes ranging from smart parking to unmanned convenience stores. Beijing's city administration also implemented an AI plan in 2017, investing $2.1 billion on a development park in the west of the capital, housing 400 companies.
In Japan meanwhile, automation was part of Prime Minister Shinzo Abe's much talked-about 'third arrow' of growth through structural reform. There is, however, little evidence of any policy to encourage investment. Similarly, in March 2019 a Japan AI plan was laid out with an aim of producing 250,000 AI experts a year, from just a few thousand today, by mandating that all university students take a beginner's AI course. This is an admirable aim, but seems more likely to improve general awareness than to develop a leading-edge capability.
There is no doubt that China is aggressively seeking to close the gap in automation and to develop a clear lead in AI. Taking this, and the country's unparalleled access to data into account, the rest of the world should take notice.
Despite government policy and an increasingly exciting start-up scene, there are still only a small number of genuine robotics contenders from China, and there has been no discernible growth in its global market share. Chinese businesses offer technologies or solutions good enough for local customers at lower cost, but it seems unlikely that leading global auto and electronics manufacturers will trade down. Nevertheless, with a third of all robotics demand already coming from China, a figure likely to grow, these companies will enjoy a supportive backdrop.
Specialising in motion control, Inovance and Estun Electronics stand out as the most viable Chinese challengers. Founded in 2003 by a team of engineers from telecoms giant Huawei, Inovance is a leading industrial conglomerate that generates half its sales from automation. It serves nine per cent of the local market for motion-controlling servomotors while leveraging its expertise to broaden its offering into related areas. Its technology may not be cutting-edge, but with 20 per cent of staff focused on R&D and a reputation for customer service, incumbents should pay attention.
Founded in 1993, Estun Electronics became a viable challenger after acquiring UK-based Trio Motion in February 2017. It also enjoys strong growth in industrial robotics with annual volumes quadrupling from 600 to 2,500 over the past three years, though this is still small in a global context.
LeaderDrive Harmonic, Siasun and Aubo are other Chinese companies worth highlighting. LeaderDrive Harmonic (not to be confused with Japanese rival Harmonic Drive Systems) has been developing speed reducers in-house since 2003 and has a significant proportion of the local market, as well as a small share of overseas demand. Although it now supplies gears to all domestic Chinese robot manufacturers, the big four have yet to risk switching. Siasun is a state-backed manufacturer of industrial robots that sells significantly less units than its larger competitors, like KUKA. Aubo makes cobots and is backed by the financial conglomerate Fosun Group. Each of these businesses would prevail even if government subsidies were cut and all can be described as successful fast followers. But that is a far cry from showing industry leadership.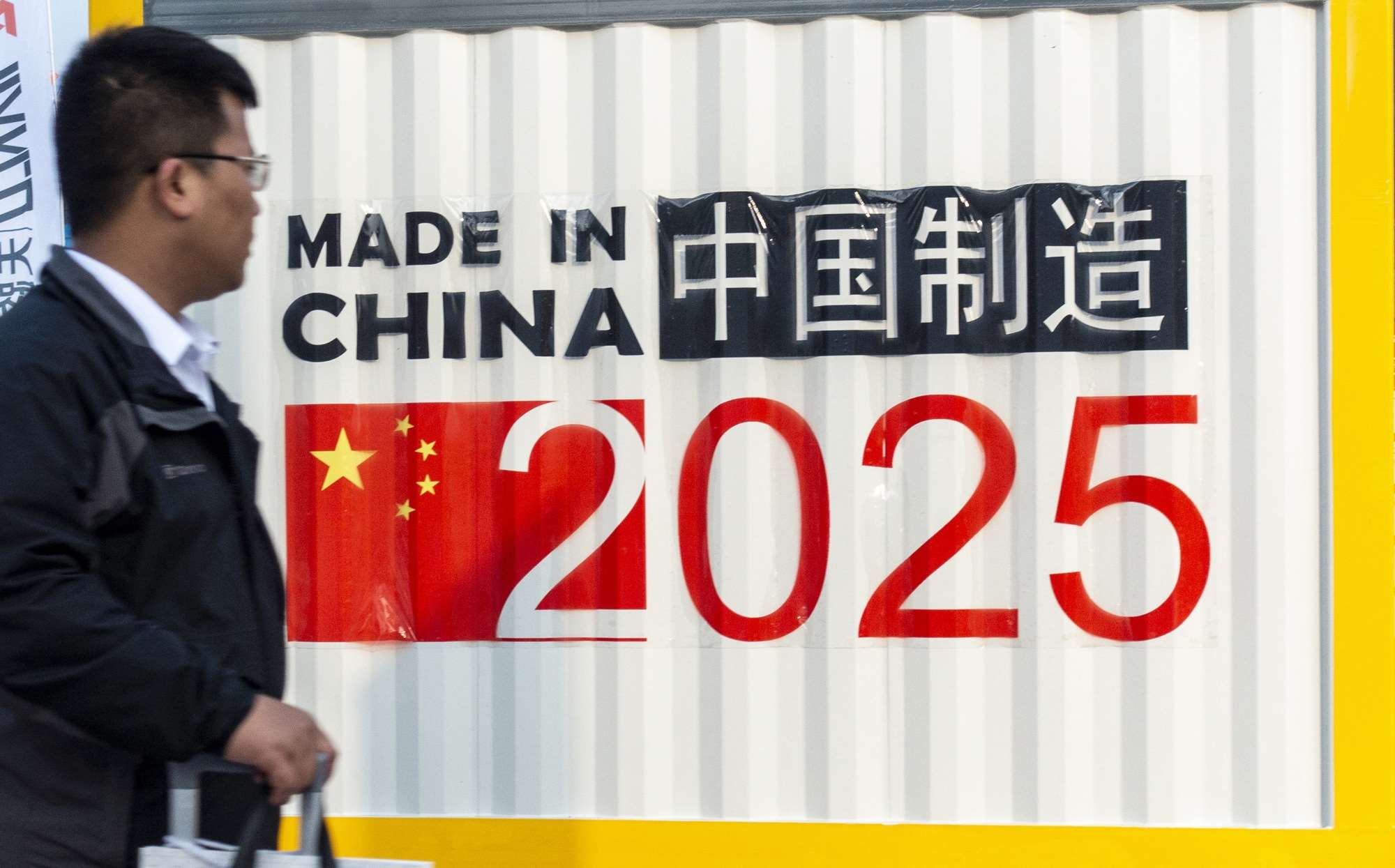 © Visual China Group/Getty Images.
The other disruptors

 
There are different requirements for manufacturing cobots. In this market there is a highly credible and disruptive new entrant from Denmark named Universal Robots. Founded in 2005, and now fully owned by semiconductor testing business, Teradyne, Universal boasts a 50 per cent market share with three standardised models. It has developed a technological lead with its seven-axis robot; while at the same time its open ecosystem has a proven appeal, enabling multiple manufacturers to develop hardware and software on top of its cobot system. Burgeoning demand for their products despite annual price rises speaks volumes. However, there is a concern that the limited capabilities of Universal's robots restricts their uses on sophisticated modern production lines. We would not discount the likelihood of the big four catching up. 
At the lower end of the quality spectrum, a UK-based startup named Automata makes small, simple cobots that can be programmed in under 30 minutes and cost only $6,000, compared to $35,000 for one of Universal's models. Falling between these two offerings is Japanese electric motor specialist Nidec, another business interested in cobots. It has been on the acquisition trail to improve its offering and has an unrivalled reputation for successfully integrating new technologies and leveraging scale, to get costs down. Nidec has already made excellent progress disrupting Nabtesco, the Japanese leader in RV gears, from a standing start a few years ago. Leading Japanese tier-one auto parts supplier Denso is also a contender. Its capabilities frequently attract industry commentary and its exhibit at the 2019 Hanover Messe was impressive. 
Finally, it's worth acknowledging developments among the leading industrial conglomerates. German behemoth Siemens, which has an established position in several automation segments, has been investing heavily in a cloud-based machinery platform akin to Fanuc's FIELD system, partnering with Amazon Web Services and Festo among others. Honeywell and Parker Hannifin are also credible players in industrial automation and are actively investing for future growth. There is, of course, a tradeoff between the overall scale and resilience afforded by conglomerates and the impact of targeted R&D from a specialist operator.