Diagnostics
As the UK government's chief medical officer, Chris Witty has said, "the one thing worse than no test is a bad test." That's why companies around the globe are working hard to find a test that provides accurate results quickly, and can also be produced at speed, but we are not there yet.
At present, testing for the coronavirus is based on looking for its genetic sequence in a specialised lab, using throat/nose swabs taken by trained professionals. Results can take three or four days and the efficacy of the test depends on timing – taking it too soon or too late will produce a false negative result – and the quality of the swabbing. Being a new virus, it is difficult to assess how accurate the existing tests are, but as a general guideline, the accuracy of similar tests for influenza is only between 50 per cent and 70 per cent. This is not satisfactory when it is one of societies' main lines of defence against further spread.
Alternatives being developed include antibody testing, which can detect if an individual has had coronavirus by identifying the antibodies produced by the body to fight the virus. These tests require a single drop of blood from handheld machines, with results available in minutes. The kits are currently undergoing testing, with the hope that they can be available in the coming weeks. If they prove successful, the kits will be quickly mass-produced and rolled out across the UK by Amazon and Boots. Another avenue being explored is an antigen test, as the antigens from the virus which trigger the immune response appear in the blood system almost immediately after infection, several days before antibodies do. These are already being rolled out to frontline healthcare workers.
In the meantime, there is some evidence that the lung abnormalities caused by the coronavirus may develop before symptoms present or the virus can be detected from current testing methods. Therefore, some experts have recommended early CT screening for suspected patients. However, there is only limited CT screening capacity and clinicians need to weigh up the risk of radiation exposure. One way around this dilemma is to use portable ultrasound to detect the lung abnormalities relating to the coronavirus, an option which allows for increased capacity and less radiation for the patients. There are reports of a Spanish doctor who has successfully been using Butterfly Network's hand-held smartphone-connected ultrasound device to monitor his lungs.
Thanks to Butterfly Network, the technology is there, it is now a matter of ramping up production over the rest of this year to the point where portable ultrasound is in the hands of every doctor and, thereafter, eventually it might even be made available for patients to self-monitor. The technology is based on a semiconductor chip and powered by machine learning, enabling Butterfly Network to substantially reduce the cost and make the device user friendly for those not trained as radiologists. Over the long term, possibly within the next decade, we may be wearing an ultrasound patch that will continuously monitor our lungs and send an early signal when there is a need for intervention and isolation.
© Butterfly Network, Inc.
Other technologies are increasing our ability to monitor patients' conditions in real time, not just at pandemic crunch points, but as a matter of routine. Masimo is one such US medical technology company that provides non-invasive pulse oximetry sensor technology. This measures the oxygen level in the blood and is a key component in critical care. The company is the global leader in this market and its good inventory management and limited supply chain exposure to China and Europe means that it is well-placed to respond to increased demand for its sensors as the number of patients requiring intensive care increases.
Treatments
As the outbreak increases demand for intensive care spaces, single-use medical products, including those being championed by Danish company, Ambu, are one way to improve the care for coronavirus patients. Single-use products eradicate the risk of cross-patient contamination. They are also readily available, cost less than the hospitals' installed reusable technologies (meaning capacity can be ramped up quickly), and there's no need of significant downtime for cleaning or repair as with traditional technology.
The gravity of the pandemic has brought out the best in many companies. In therapeutics, just as in sequencing efforts and vaccine development, the race is no longer against peers, but against the virus. The news is flooded with stories of consortiums being set up to collaborate on research efforts and therapies, and of companies redeploying existing capabilities from non-healthcare-related fields to help re-design healthcare products. Novartis, for example, has joined forces with 14 of the biggest names in life science, including Johnson & Johnson, Eli Lilly, Merck, Sanofi and GlaxoSmithKline to identify what they can do to scale up the availability of treatments, vaccines, and diagnostics for the coronavirus, with the support of the Gates Foundation. Elsewhere, the emerging technology of 3D-printing is helping to produce affordable tools to meet identified shortages, such as protective gear for healthcare workers, because it strips back the production chain to its bare minimum.
Even more complex medical equipment can be improved or re-engineered under time pressure. Under normal circumstances, it takes two to three years to design and produce a new ventilator, but governments hope to speed up the process to meet the anticipated shortfall. In response to the UK Government's plea for help, some of the country's leading technology and engineering firms have been changing their existing operations and partnering with manufacturers to rapidly build existing, modified or newly-designed ventilators, including the vacuum-cleaner manufacturer, Dyson. In partnership with the medical technology company, The Technology Partnership, it is bringing to bear its expertise in air movement, motors, power systems, manufacturing and supply chain to develop a fully regulated medical device.
For patients needing assistance breathing, Continuous Positive Airway Pressure devices can help keep patients out of intensive care by delivering oxygen to the lungs without needing a ventilator. They are in short supply and clinicians and mechanical engineers from University College London and the Mercedes Formula One team created a new device in less than a week. One hundred of the machines are being tested in hospitals. Mercedes has said that, if all goes to plan, it will be able to immediately start producing up to 1,000 per day.
Drugs are one form of therapeutics that will take much longer to develop and deploy in a clinical setting. Because of the long lead times, many drug companies are working on repurposing existing drugs that have been approved for other uses, including drugs that treat malaria, arthritis and Ebola. The advantage of this approach is that the drugs can go directly to being tested in humans for efficacy (Phases 2 and Phase 3), meaning patients should, hopefully, have less time to wait to access these treatments.
There are currently two main types of drugs being investigated: antivirals (preventing the virus replicating) and anti-inflammatories. Clinical trials will take months, and the fear is that the pandemic may have passed in the meantime. For this reason, US companies Alnylam Pharmaceuticals and Vir Biotechnology are looking at an entirely novel way of treating the virus. They are working on developing an anti-viral treatment which, if the technology proves successful, will allow them to treat the whole family of coronaviruses, by targeting the part of the genome that does not mutate. This would mean that we would be better prepared for future outbreaks.
It is unlikely that all the drugs that are being developed will be successful. However, because there are so many different approaches being taken, it increases the chances that one will succeed, and we might be in a much stronger place to deal with a similar pandemic in the future.
Prevention Is Better Than Cure
Advances in technology increase our likelihood of finding a vaccine relatively quickly, or at least a lot faster than previously possible. Historically, developing a vaccine could take up to 10 years. However, scientists are suggesting that new approaches to vaccine development could shrink this to a 12–18-month period. There are at least 70 coronavirus vaccines in development globally, with three candidates already being tested in human trials, according to the WHO. This level of focus and the wide range of technologies being deployed increases the likelihood of finding an effective vaccine. It is also testament to the willingness of research institutions and companies to put aside rivalries and focus on providing solutions in a time of crisis.
Vaccines work by directing the body's cells to produce an antibody – a virus-fighting protein – and so triggering an immune response. Traditional vaccines use small or inactive virus samples, but newer technologies allow scientists to work from the virus' genetic sequence instead, meaning shorter development times and increased immunity. One of the new approaches is based on mRNA (messenger RNA) technology: mRNA transfers information stored in our genes to the ribosome which produces the body's proteins. Companies approaching the coronavirus from this angle include the US company, Moderna. It is engineering mRNA that provides a code for the coronavirus' spike protein, the virus' mechanism for entering the body's cells. The mRNAs are injected into the patient, where the patient's cells take on the mRNAs and produce the spike proteins. These, in turn, will invoke an immune response and trigger the body to produce antibodies.
Progress to date has been rapid and is testament to the recent advances in data science: drug development and manufacturing are fully automated at Moderna, and the company relies heavily on cloud computing and machine learning tools to carry out research and development. Within 42 days of receiving the genetic blue print for the coronavirus, the company went straight to a Phase 1 clinical study to determine whether the vaccine is both safe and provides immunity at the tested dosage. There will be two further clinical phases that, all being well, will test the effectiveness of the vaccine in larger testing pools. While the vaccine might be a year or more away from approval, the company has suggested that under emergency use it might be available for the most vulnerable and healthcare professionals later this year.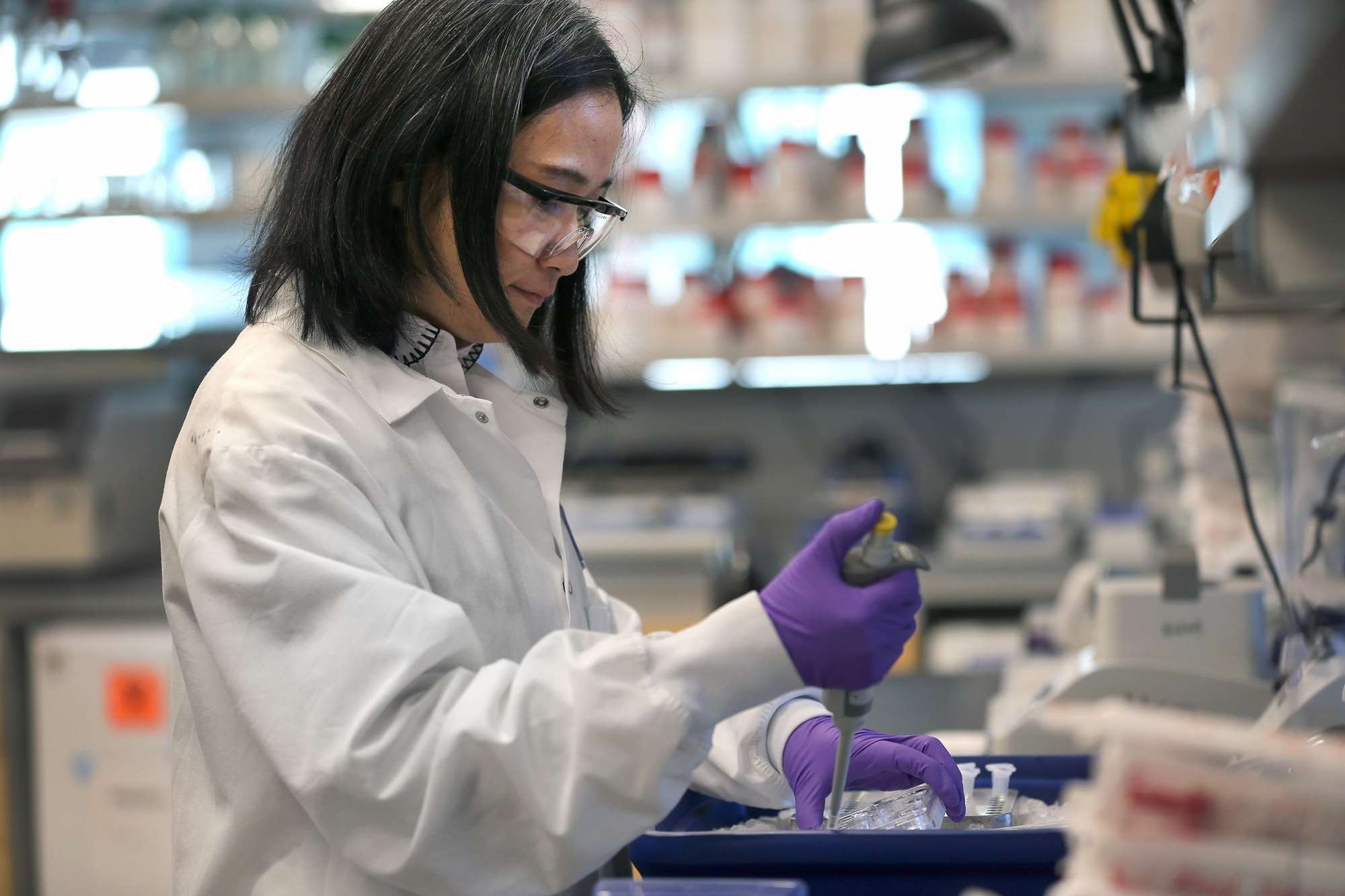 Scientist Xinhua Yan works in the lab at Moderna in Cambridge, MA February 2020.
© Bloomberg/Getty Images.
Others utilising mRNA technology to develop a vaccine include CureVac (due to start clinical trials in early summer) and BioNTech (aiming for clinical trials in late April). If any of these vaccines are approved, the next issue will be producing enough vaccines at speed to provide immunity across the globe. Thanks to the automation of its manufacturing facility, Moderna is well-placed to overcome this challenge.