The halo effect
Sunday, 29 November 2020, 1412 GMT, Bahrain.
On turn 3 of the first lap of the Bahrain Grand Prix, French driver Romain Grosjean careers across the track and hits the side barrier head-on at 143mph. The barrier slices his Haas car into two pieces, Grosjean in the half that bores underneath the barrier, and a huge explosion lights up the circuit, creating an instant inferno. As the flames rage thirty feet into the air, I cover my seven-year-old daughter's eyes thinking "Grosjean has just died in front of us".
24 seconds later, a slim figure in a racing helmet emerges from the inferno, wriggling out of the monocoque engulfed in orange flames, and leaps over what is left of the barrier, to be dowsed by the fire attendant and grabbed from danger by the safety car doctor.
The initial public reaction to this heart-stopping event and the accompanying images was something like "OMG what drama! What a horrific crash. What a miracle he's alive. F1 is such a dangerous sport".
But a more considered view should conclude quite the opposite. Given the deceleration was 53G, the heat of the inferno several hundred degrees, the car was sliced in two, and that Grosjean … walked away with some burns to his hands and a sore back, a more fitting conclusion is surely: "Wow - what unbelievable progress in technology! F1 is so safe nowadays it's incredible". Indeed, even three years ago Grosjean would have been decapitated by the barrier, before the advent of the 'halo' protection, a super strong carbon fibre arm the drivers now have wrapped round the cockpit. The ultimate irony? In 2017 Romain Grosjean was one of the F1 drivers arguing against its introduction. He has since changed his mind.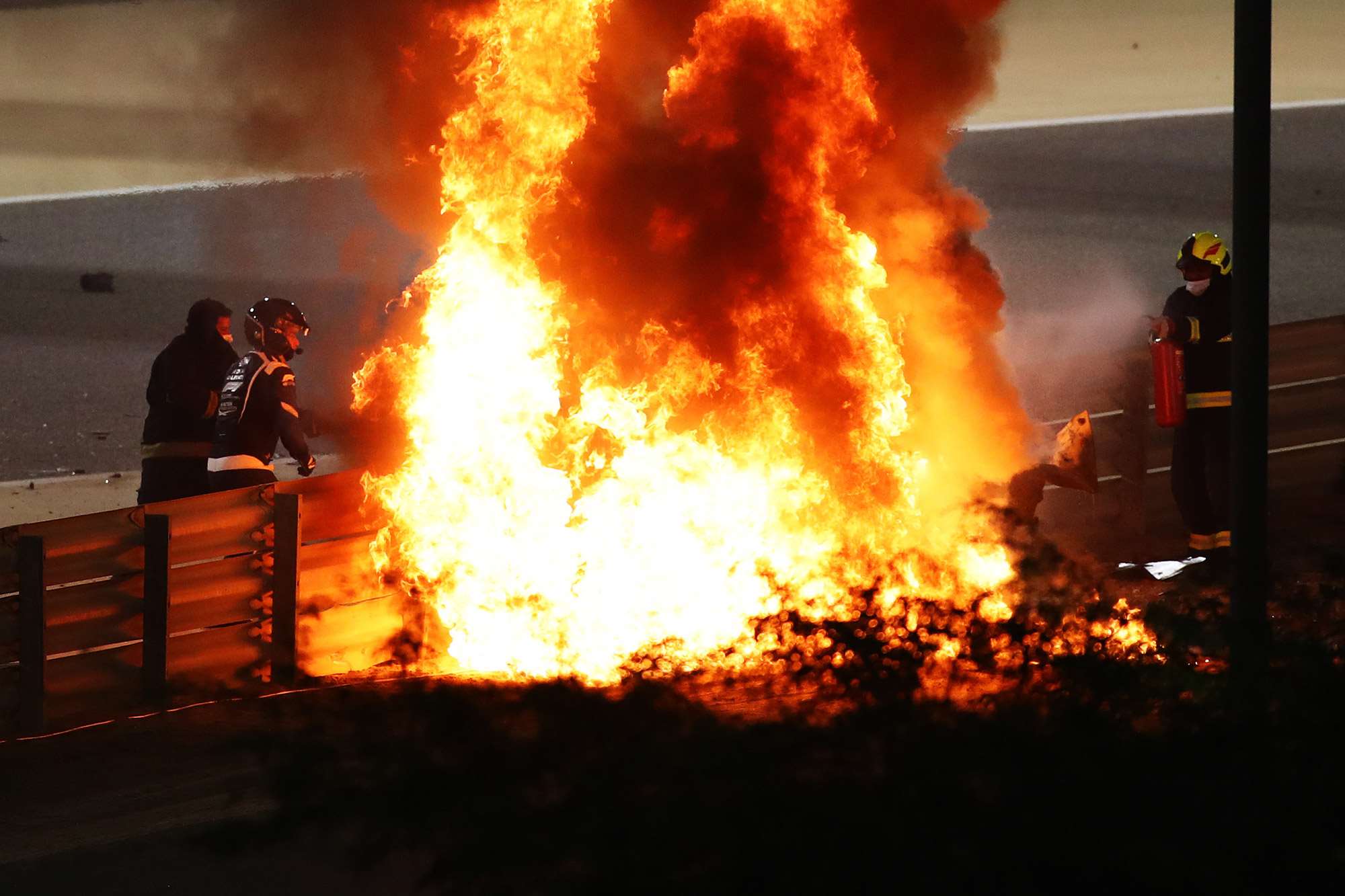 At this moment Grosjean is still in the fireball, in the half of the car that went through the barrier.
© Getty Images Europe.
2020: A different read
In many ways, the alarming drama of the Grosjean accident, and yet the reassuring, even inspiring, take-away from it, are emblematic of how we could consider cursed 2020.
Grafting from home in the dark Scottish winter, the Covid restrictions are tightening again. They preclude us from meeting with family and friends on the most special days of the year, give no prospect of an evening out, sporting event to attend, or holiday to look forward to, and one's natural thought is "what an absolute shocker of a year". Yet the considered view, in our opinion, can be quite the opposite: 2020 should probably be seen – will one day be seen – as a truly historic yardstick for human progress, and the start of an exhilarating decade of expanded possibilities that we will again call "The Roaring Twenties", which were also preceded by a global pandemic. How so?
First, we need the right context to judge this. As usual with Baillie Gifford, it is calibrated from what you would call a rather long-term perspective.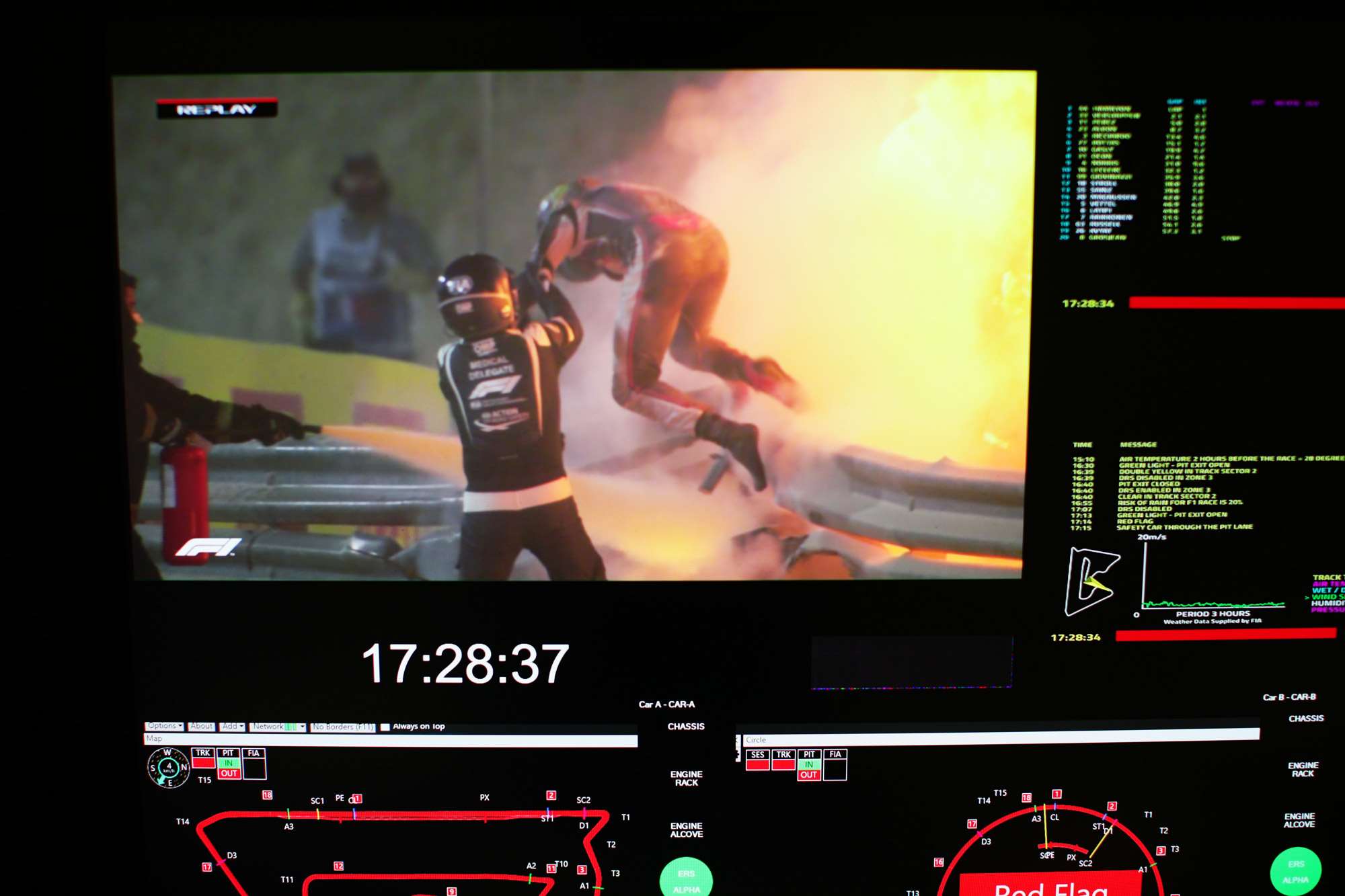 Grosjean miraculously escapes from the inferno.
© Getty Images Europe.
Human progress
The Black Death of 1347-51 killed between 30 per cent and 50 per cent of the entire population of Europe, the greatest catastrophe in human history. No cure was found. Ok, you say, but that was back in the Middle Ages.
From 1918-1920 – almost in living memory – Spanish Influenza killed 5 per cent of the world's population (c. 75 million people, considerably more than the fatalities of World War 1). No cure was found – in fact doctors relied on aspirin, castor oil and even 'blood letting', so by 1920, just a century ago, worldwide life expectancy was a scarcely believable 21 years old.
Since its arrival a year ago to dominate our daily lives, Covid-19 has killed … 0.02 per cent of the world's population. Cure? Found in four days (explanation later in the paper). Within a year of Covid-19's appearance, we are rolling out vaccines. It does not feel like it right now, but what the Covid pandemic really shows is the amazing rate of accelerating human progress. It is showing how the world has become a safer place to live in than at any point in human history. We don't recognise any of this because we didn't experience the past ourselves, and because humankind's perception of risk has rocketed, while our tolerance of it has plummeted. Very much as it has in investing, to the detriment of returns.
This is not to downplay a traumatic year across the globe, which has caused major disruption and worse to billions of lives, and ushered parts of our economies to accelerated extinction. And the 0.02 per cent mortality figure doesn't really help if you were close to someone unlucky enough to be in that tragic figure, or one of the higher number of people who have been alarmingly ill, or one of the higher number still who have suffered job losses. Moreover, there are still some months of daily disruption and frustration to come – in the UK, we are back in full lockdown.
But in terms of confirming the scale and speed of technological progress, and of the accompanying Deep Transition in economies, and the transforming investment landscape for decades to come, there hasn't been a more pivotal year since the start of the Industrial Revolution in 1760. And this means massive opportunities for the imaginative investor with a ten-year view. This means 2020, cursed while it may be, is really the start of our own Roaring Twenties.
Our Roaring Twenties
If our main theme is the impact of technological progress across our lives, we should start with transport and energy capture. The original Roaring Twenties evoked the advent of the automobile, dashing drivers of internal combustion engines roaring past, cashmere scarves a-flutter, all Gatsbyesque. Our Twenties will have a silent purr, rather than a roar, but the last year is surely the moment when acceptance of the electrification of transport became mainstream. Our own thesis from a few years ago – that by 2030, 40 per cent of worldwide new car sales could be electric with Tesla the market leader – has gone from apparently fanciful to probably understated. The UK government wants all new car sales to be electric in 2031 (recently brought forward 10 years from 2040), and the acceleration in direction of travel is mirrored across continents.
Double, double, the foil to trouble
So, our contention that Tesla will manage three more doublings of car production (having already achieved six) to four million vehicles per year sounds big, but cars may well present a decreasing part of the overall Tesla story from here. Think 20 million vehicle batteries per year (three quarters sold to other car companies), plus autonomous driving software sold across the world's car fleet, plus a trillion watts of stationary batteries absorbing and storing energy from millions of solar panels handsome enough to adorn a Renaissance villa of the Medicis. Please keep questioning our sanity on imagining Tesla's upside, otherwise we'll get worried.
Another area's technological breakthrough in 2020 helps us chart a revolutionary decade to come. In the 1920s, Alexander Fleming discovered penicillin, arguably the most important medical breakthrough of all time. In recent years we've been excited about the intersection of technology-meets-Healthcare, but it has provided its frustrations. The picks-and-shovels of Illumina's sequencing machines have been doing some digging, but the big population studies haven't really happened yet, and our bets on companies with a promising new treatment (Ionis, Bluebird, both sold in the last 18 months) have had measured success without becoming the platforms for runaway success we'd hoped.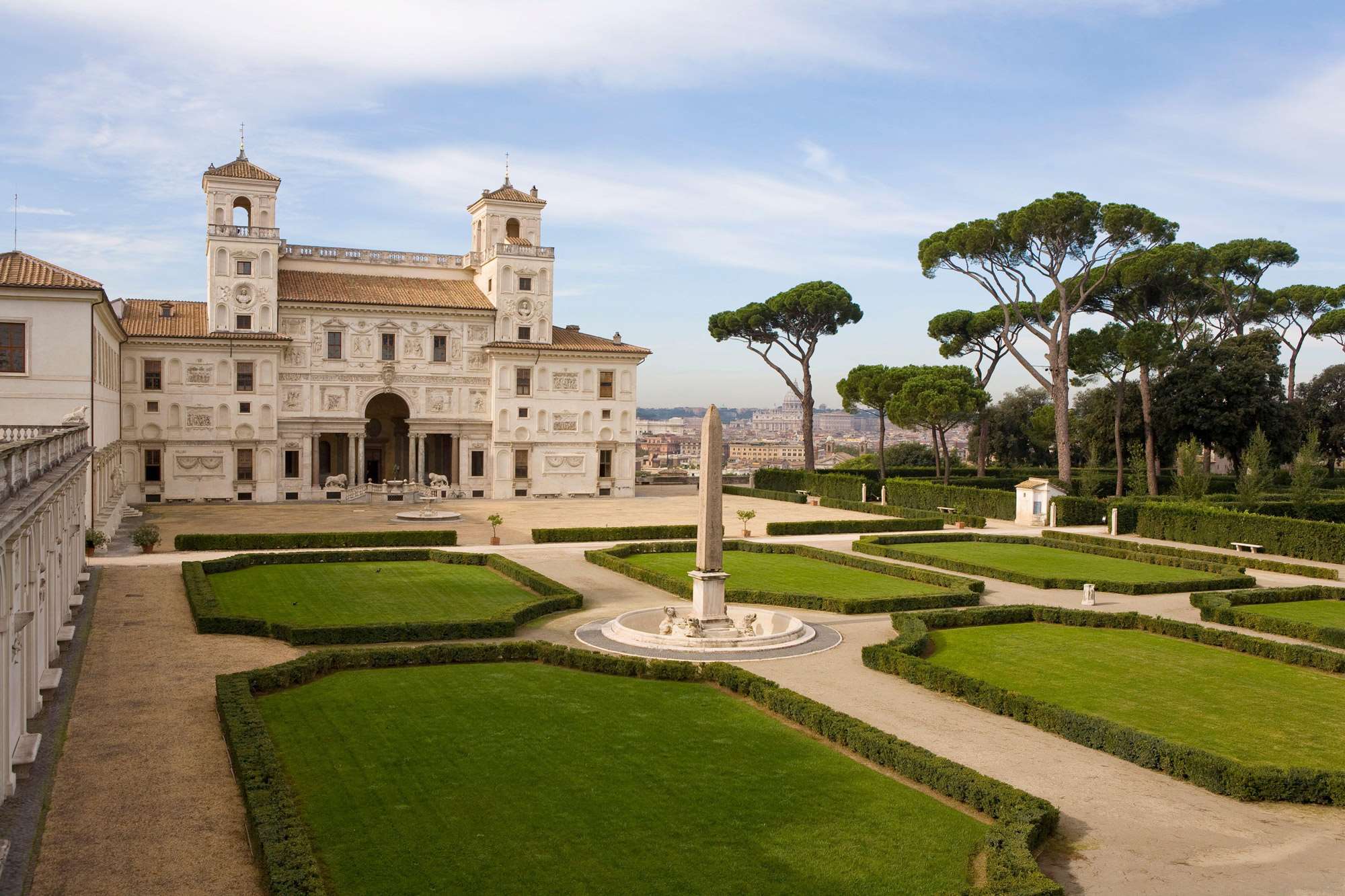 Villa Medici, Rome. Imagine with solar panels that it looked … exactly the same.
Four days
But in 2020 that changed. We already knew that Illumina's machines had sequenced the genomic code of the coronavirus in two days. They then shared that code with laboratories around the world. What came to light very recently is that Moderna – the messenger RNA company we bought for LTGG in the third quarter of 2020 (Baillie Gifford had already owned Moderna since 2018 so we knew the company well) – plugged the code into its software and produced the vaccine in ... two days. The vaccine formula hasn't changed since Moderna's initial answer, hence the claim earlier of 'four days' to find a cure for the coronavirus.
What takes months is gathering together a bunch of human beings, doing three phases of trials, and then getting approval, but even then it's less than one year rather than ten, with the real science taking a few days. For Moderna, we think the Covid vaccine is an early (and extremely important) proof statement and its flywheel will start to turn fast: it has six more vaccines in its programme (examples include vaccines for Zika virus and Influenza H7N9) and its chance of consistent success at platform level has gone way up. And while Illumina's growth rate hasn't yet come through as we would have hoped, our bet is it will do soon, perhaps accompanied by an incredible breakthrough in cancer detection, of which more another day.
There is an invisible driver behind all this progress – and at three nanometres, it literally is invisible. From Illumina to NVIDIA, Netflix to Nio, Amazon to Alibaba, these companies bound forward each year thanks to the remarkable continuing progress of Moore's Law (namely: the number of transistors on circuits doubles every two years), which in turn is thanks to the remarkable continuing progress of possibly the most overlooked company in the world: Netherlands-based ASML, and its new generation extreme ultraviolet (EUV) lithography machines. The cliché 'it's not rocket science' implies that generating sufficient propulsion to reach escape velocity is the ultimate in complex problem-solving human endeavour. What ASML does to keep up the momentum of Moore's Law goes way beyond rocket science.
Luckily, we only need to understand the basics of ASML's technology and then project forward with a bit of imagination to see where this can take us, but simply put, it is the foundation for many impossibilities to become probabilities in years to come. A bit like Illumina, ASML hasn't been growing that fast recently and we've discussed at length why this might be. But all roads in artificial intelligence point to massively increased computing power requirements which only ASML can be at the root of solving. So, we think a decade of strong growth is ahead and we're doubling down on our bet.
© Marius Dobilas/Getty Images
Annual Past Performance to 31 December Each Year
| | | | | | |
| --- | --- | --- | --- | --- | --- |
|   | 2016 | 2017 | 2018 | 2019 | 2020 |
| LTGG Composite Net (%) | -4.0 | 54.0 | -1.6 | 34.1 | 102.0 |

Source: Baillie Gifford & Co. US Dollars.
Changes in the investment strategies, contributions or withdrawals may materially alter the performance and results of the portfolio.
Extreme Alpha
Both doubling down on a couple of existing bets and making some new ones brings us on to a striking and quite unusual feature of our portfolio transactions this year: the recycling of extreme alpha.
We pride ourselves on running winners, and in Amazon, Tencent and others this is exactly what we've been doing for years. Our academic links with Arizona State University's Professor Bessembinder and his very long-term studies of the composition of market returns have encouraged us to go as far as we can in this vein. But Tesla's price rose by so much that we had to cut it back on several occasions to stay within the '10 per cent max in one stock' rule. The result is that in 2020 alone we recycled 10 per cent of the portfolio out of Tesla into new stocks, and yet Tesla remains a 9 per cent holding! In the case of Amazon, we still see good upside (more than $3tn market cap in five years' time), but two-times upside is at the lower end of what excites us, so we also made a reduction to our longest-term winner.
The extreme alpha proceeds from these home runs have been going into new holdings. The second half of 2020 saw, by our standards, a flurry of activity, with new positions in KE Holdings (a Chinese online property platform), Beigene (a Chinese pharma company focused on cancer drugs), the aforementioned Moderna, Carvana (online car sales), and Beyond Meat (leading producer of plant-based meat substitutes).
There are two more salient points to elicit from these transactions. First, the flow of new stock ideas is particularly rich at the moment. Research productivity has never been higher in the LTGG Team, with our own Gen Y and Z'ers also making compelling cases for new holdings. Competition for capital is intense – the accelerated and seismic changes in economies and societies are throwing up huge potential winners.
Second, a number of these ideas are coming from China. Our research office there is proving extremely valuable already. If the 1920s confirmed America's new leadership of the economic world, then the first year of the 2020s has already confirmed China's. The ideal combination of superb technology and an compliant population saw China bounce back from Covid ahead of anywhere else. The shift of innovation from West coast America to East coast China continues apace. That said, Ant Group's IPO is a reminder of internal risks political and regulatory to negotiate, and US-China tensions will not disappear by any means, though they should at least improve in tone from the blunt belligerence of the exiting US presidency. But overall the opportunities in China far outweigh the risks; the loudest roaring of our Twenties will come from a dragon, and on a ten-year view, it seems likely that Chinese companies will make up more of the LTGG portfolio than anywhere else.
The last point on human progress in 2020 is perhaps the most important, at least in terms of overall society, as it is driven by moral conscience rather than technology. Last year we wrote an 'RIP Milton Friedman' piece on his outdated profit-is-the-only-corporate-responsibility maxim, a watchword that was so dominant in terms of corporate ethos in the ensuing decades. 2020 was surely the final nail in Friedman's coffin, when we saw companies like Hermes and Kering side-lining fancy handbags to make PPE kit for healthcare workers. The biggest challenge for a number of our companies is to get this rounded sense of responsibility right, or face regulation and stakeholder disenchantment if not. This is too huge a topic to go into now, other than to promise you that it is very much in our minds, with an awareness of better assessing environmental issues as part of that coming to the fore.
Indeed, our investment process should always be evolving, both to reflect and anticipate changing dynamics. So, in 2020 we embarked on a serious project to up our game on assessment of climate impact within our companies. We've enlisted the help of world experts with bigger brains than us (Mike Berners-Lee, Carlota Perez), but such is the complexity of the topic that we're not ready to share the work in progress yet – that will be later in 2021. But the rationale for sale of Inditex in 2020 encapsulated the "is this business model sustainable?" concerns, and our reduction of Facebook reflects the societal and regulatory ones.