Lessons learned: connecting with experts
Key Points
Baillie Gifford's links with academics worldwide provide expertise and intelligence that informs its investment decisions
In diverse fields, our connections provide early notice of technological breakthroughs that could change our lives for the better
The collaborations offer many benefits to academic institutions as well as making us better investors of clients' money
All investment strategies have the potential for profit and loss capital is at risk. Past performance is not a guide to future returns.
Some companies make possible what once seemed impossible. Baillie Gifford seeks to invest your money in these companies.
To find the firms exploiting new technologies and finding ways to do things better, many of our investment teams enlist the help of academics and experts worldwide.
More than ever, this network of connections provides us with valuable insights into long-term trends.
So what and where are these links? How do they work? And what's in it for both sides of the partnerships?
A yearning for learning
Baillie Gifford investment managers' belief in Tesla's growth potential owes a lot to the great minds of the Santa Fe Institute.
Professor W. Brian Arthur's theories of how companies can consolidate advantage, and Professor Jessika Trancik's research on low-carbon innovations, helped shape the firm's understanding of electric vehicles and the potential impact of Elon Musk's vision.
The relationships are cultivated by individuals following their interests, but what they learn is shared with colleagues at seminars and webinars, spreading the potential benefits firm-wide.
We're striving to create a global community of experts in many disciplines, to inform and guide our approach to investing clients' money.
These ties are based on strong mutual trust. They range from focused, bespoke research into topics with a specific purpose for us to general philanthropic support for research that benefits wider society.
Through these relationships, we learn how the world is changing. We gain first-hand knowledge about technological advances and long-term social and environmental shifts that could affect the future of our funds.
Thought leaders also provide a sounding board for new ideas and improve our understanding of complex issues, from health inequality to the ethics of artificial intelligence (AI).
Baillie Gifford prizes curiosity, learning and innovation. Working closely with academic institutes, research centres and universities supports the firm's own research and keeps us informed on technological, economic and societal progress.
These relationships help the firm look beyond the usual sources of investment research to understand global change and the progress being made in solving some of humankind's greatest problems. Partners in the UK, the US, France, Belgium, the Netherlands, Singapore and China have helped our fund managers' quest for ideas and insights that make them better investors of clients' money.
World of difference
Like the great American architect and inventor R. Buckminster Fuller (1895-1983), we believe that conventional views can distort as much as they reveal.
For example? Fuller knew that the 'Mercator projection' of the globe, the one we know from our schoolroom walls, greatly distorts the relative size and shape of the Earth's continents. It falsely implies that our planet has a 'right way up'. So he invented the 'Dymaxion map'.
This map showing our global academic connections is comprised of triangles that can be folded into a near-spherical icoshedron (a 20-sided shape). The Dymaxion map – dynamic, maximum, tension – symbolises for us how great thinkers, through challenge and experimentation, make us see the world differently.
Why engage with academia?
It started from a desire to leave the investment industry 'herd' and to think differently. Now Baillie Gifford managers see many more good reasons to learn from academia.
Building a global community of researchers has helped us to think about change in all its increasing inter-disciplinary complexity from health innovation to vertical farming.
In addition to focusing on themes that directly affect investment decisions, these discussions help us to look at the bigger picture for the longer term, far from the financial services echo chamber. Academics may not have all the answers, but they help us to ask the right questions.
What are Baillie Gifford investment teams looking for?
Our programme for teaming up with outside experts has three main aims:
To enable academic partners to conduct important research
To educate our investment managers about how the world is changing
To bring broader benefits to society
Importantly, Baillie Gifford staff have autonomy to develop relationships based on their own interests, not on a given corporate 'line'. Our investment teams are encouraged to develop open, non-prescriptive research partnerships across academic disciplines. These partnerships are driven by curiosity and involve mutually beneficial exchange. They are focused on the long term.
What are our partnerships about?
Baillie Gifford investment managers have developed research relationships with universities on many different topics. These have been pursued on the initiative of different investment teams, but some common research themes have emerged. They include sustainability and climate change, health innovation, complexity economics, the energy transition, digitalisation and AI, and wider technological change.
A worldwide web 
Baillie Gifford's network of thinkers
1 University of Edinburgh
Pandemic Science Hub
1, 7 University of Glasgow 
Chronic disease prevention

1 National University of Singapore
1 Oxford Brookes University
Genetics of eye disorders
2 Imperial College London
Energy Futures Lab
2, 6 Universities of Sussex and Utrecht
Deep Transitions project
2, 3 James Hutton Institute
3 Toulouse School of Economics
Sustainable Finance Centre
3 Lancaster University
Prof. Mike Berners-Lee
3 Shanghai Jiaotong University
Low Carbon College
3, 4 Oxford University
Prof. Doyne Farmer
3, 4 Santa Fe Institute
Technological transitions
4 University of Arizona
Prof. Hank Bessembinder
4 Heriot-Watt University
Panmure House
4 London Mathematical Lab
Prof. Ole Peters
4, 7 University College London
Centre for Innovation
4, 6 Santa Fe Institute
Prof. Brian Arthur
5 University of Cambridge
Centre for the Future of Intelligence
1, 5  IMEC
5 University of Edinburgh
Edinburgh Futures Institute
5 MIT
Digital Currency Initiative
5 BTCPay Foundation
3, 5, 6 Delft University of Technology
7 Universities of Glasgow and Edinburgh
Children's Neighbourhoods Scotland
7 Plano CDE
Financial inclusion
7 David Hume Institute
8 University of Oxford
Oxford China Centre

Sustainable farming
James Hutton Institute
Baillie Gifford has a partnership with the James Hutton Institute (JHI), an interdisciplinary research institute based in Dundee, Scotland. It draws on several academic disciplines including sociology, ecological economics and geography. The JHI focuses on environmental, crop and food science. The firm has supported the creation of an Entrepreneurial Research Fellowship, held by the ecologist Professor Alison Hester. She leads a climate-positive farming initiative. This project involves trialling and testing new farming methods and different varieties of crops and livestock to achieve net zero emissions. The methods include carbon sequestration through the soil. The relationship has taught us about the future of food and farming. Our improved understanding informs our investment in Indigo Agriculture, which is trialling new sustainable technologies for improving crop yields. It also provides perspective on our investment in Deere, which is pioneering low-carbon agricultural machinery.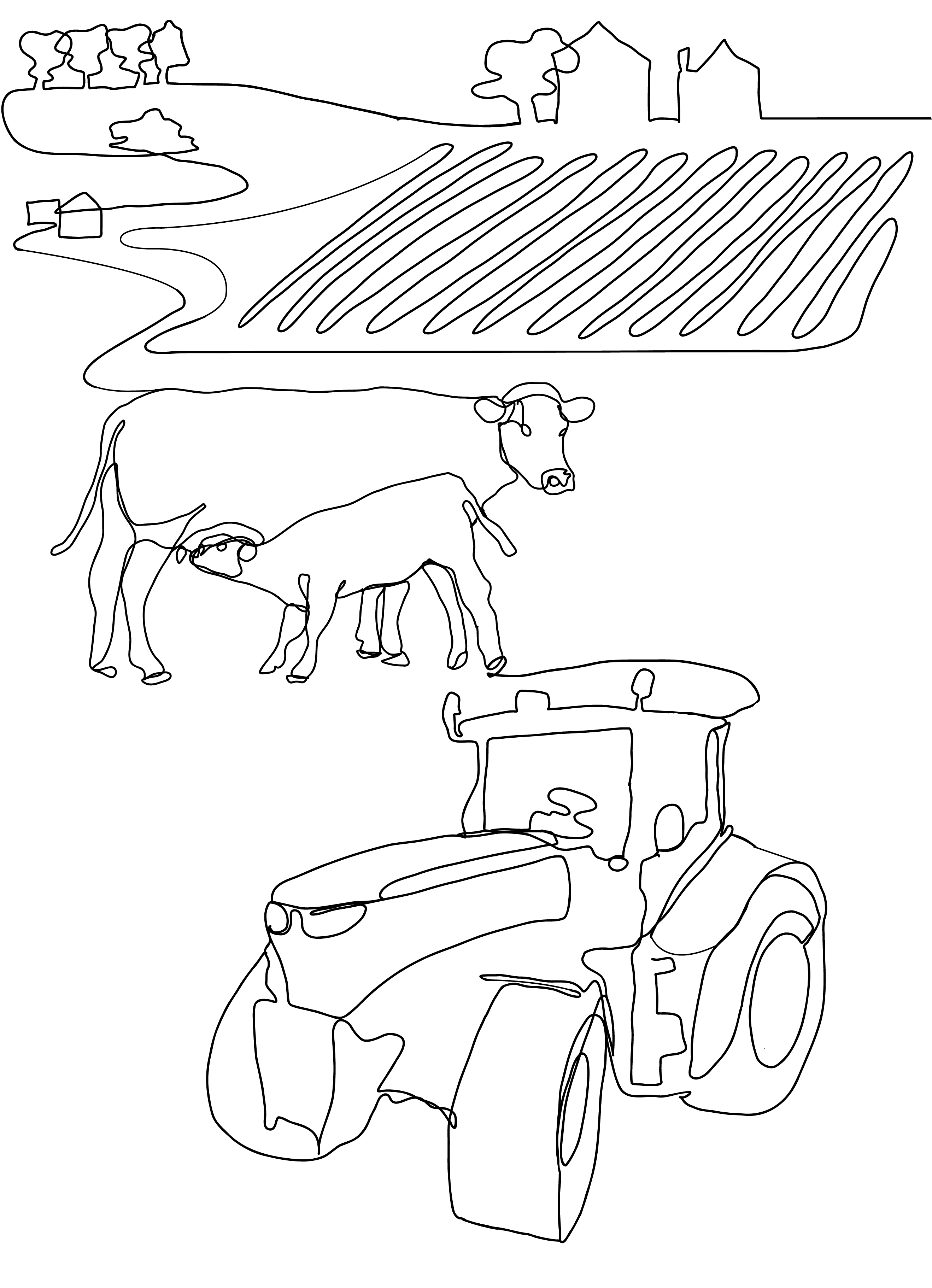 Digital innovation
Interuniversity Microelectronics Centre
Baillie Gifford has a research relationship with IMEC – the Interuniversity Microelectronics Centre in Leuven, Belgium. IMEC is a research and development hub for nano and digital technologies. It enables advances in chip technology such as lithography such as lithography to drive exponential growth – in line with Moore's law, which states that the number of transistors on a microchip doubles every two years. This acceleration could address society's demands for more computation and data storage. The hub brings together over 5,000 scientists from 95 countries to create groundbreaking technologies that could make our lives better. IMEC has advanced our understanding of the evolution of Moore's law and the enabling technologies that will be driving future progress.
Ethics of artificial intelligence
University of Edinburgh
Baillie Gifford has supported the Edinburgh Futures Institute in its first major programme on the challenges and opportunities posed by the revolution in data and AI. The firm has funded a Chair in the Ethics of Data and Artificial Intelligence, held by the philosopher of technology Professor Shannon Vallor, and a cluster of doctoral researchers working on the ethics of AI. The partnership addresses pressing concerns around emerging technologies, including machine learning and accelerated automation. For example, the Institute is exploring ways to address 'responsibility gaps' in autonomous systems such as self-driving cars, to ensure they are more trustworthy by design and trusted by users.


Energy system transitions
Imperial College London
One of Baillie Gifford's newest relationships, with Imperial College London, centres on the transition of energy systems to net zero. The research programme covers two broad areas. The first is the transformation of electricity systems to maintain secure and reliable operation without fossil fuel generation. The second is the role of hydrogen and carbon capture and storage in the broader energy system. The work is being led by an interdisciplinary team at the Energy Futures Lab, and its outcomes will help us understand the role of companies – including Baillie Gifford holdings such as wind farm operator Ørsted, wind turbine developer Vestas Wind Systems and battery makers CATL and Northvolt – in decarbonising the grid and ensuring fairness for consumers.
What do these partnerships bring to Baillie Gifford?
1. Access to valuable sources of investment insight
Engagement with experts can lead to direct insights (for instance through commissioned external feedback on our portfolios) or indirect insights (through a better understanding of a research area). An example of the former is Professor Mike Berners-Lee's research at Lancaster University on carbon footprinting, which has helped us better understand the carbon assets and liabilities in our portfolios, and made us better able to evaluate the quality of companies' carbon commitments.
2. A front-row seat at research breakthroughs
Occasionally, Baillie Gifford has supported a strand of academic research that has led to breakthroughs. One such is Professor Nicola Ragge's work at Oxford Brookes University on congenital eye disorders. She and her team discovered the genes critical for human eye, brain and limb development, enabling them to develop better genetic testing, diagnosis and treatment for eye anomalies and other developmental disorders. Her work holds out hope of improving patient outcomes. This research has informed understanding of the role of next-generation gene sequencing in diagnosing rare conditions and the technology's wider impact on healthcare systems.
3. Insights into broader social and technological trends
As well as targeted insights, academic research alerts the firm to longer-term technological and socioeconomic changes that may affect our investment strategies. Supporting work that explores those changes helps the firm spot long-term trends. One example is Professor Johan Schot's work on the conditions required to enable major shifts or 'deep transitions' in energy, mobility and food systems towards long-term sustainability. The work is underway at the University of Sussex and Utrecht University in the Netherlands.
4. A sounding board for ideas
We get access to bright, engaged and forward-thinking people we can bounce ideas off. Close relations with experts can lead to breakthroughs in our thinking. This has been true of our relationship with the Delft University of Technology in the Netherlands, where researchers across the university have advanced our understanding of AI, quantum computing and sustainability.
5. Access to interesting thinkers and larger networks
Collaboration gives us indirect access to international research networks and interdisciplinary initiatives. The aforementioned relationship with Imperial College London provides access to others working on energy systems transition across Imperial and through their global research networks on CO₂ transport, utilisation and storage. Access to these research networks complements the firm's creation of broader expert communities that also include authors, policymakers, journalists, charity leaders and social entrepreneurs.
6. Intellectual support for our investment philosophies
The influence of some academics extends across Baillie Gifford. Professor Hank Bessembinder's work on asymmetry in stock market returns at Arizona State University is often cited in support of the firm's approach to identifying, supporting and staying invested in winning companies. We learned from his research that only a handful of companies have generated significant net gains in the stock market. So when it comes to investing, only a few companies really matter: the asymmetrical winners that can capitalise on structural growth trends in the economy to deliver outsized returns over the long term. These companies are hard to find but have common characteristics. They are addressing large market opportunities and have an unassailable edge over their competitors, which helps them to grow rapidly.
7. A means to support society
Research that we support can change the world for the better, from the University of Glasgow tackling health inequalities or Shanghai Jiao Tong University creating net-zero climate solutions to the Toulouse School of Economics pioneering sustainable finance models.
What do academic partners get in return?
For academics, the benefits of working with Baillie Gifford include:
1. Funding for research
The biggest draw is funding. It allows academics to create or expand new research projects or centres. This can help fill a gap in support for more experimental or interdisciplinary research, which public funding agencies may not prioritise. An EU-based academic partner told us: "One research council rejected my grant application because it was considered too risky, even though they said they supported experimental interdisciplinary research. I knew my proposal was risky but I also knew it was important. So I sent Baillie Gifford the proposal, along with the research council feedback, and they were willing to take the risk." Furthermore, our partners appreciate the open-ended and non-prescriptive nature of the funding, which enables them to deploy funds where most needed, for example in hiring staff, supporting doctoral researchers, purchasing equipment, or hosting events. Unlike most funders, Baillie Gifford's support allows them to focus on where the need is.
2. A means of leveraging other funding
Some academics have gone on to win research funding from other sources on the strength of sponsorship from Baillie Gifford. A UK-based academic partner told us: "The fact that we can say we've had funding from Baillie Gifford has a very positive impact. It's better than research council funding." The strength of the Baillie Gifford brand helps partners to leverage other forms of financial support, allowing them to consolidate and expand their research programmes.
3. A front-row seat at research breakthroughs
Many academics and research institutions prioritise 'knowledge exchange' and seek to better engage with the private and public sectors. Their relationship with Baillie Gifford can provide a 'safe space' to test new ideas and models of knowledge exchange.
4. Insights into research from an investment perspective
Academic partners value conversations with Baillie Gifford's people. They help academics to understand industry trends and offer different kinds of insights from those sourced from fellow academics. A US-based academic partner told us: "My conversations with Baillie Gifford have been a lot more serious and philosophical than most interactions I've had with private firms … and in return I've learned a lot from interacting with people at Baillie Gifford. I exchange ideas with them on where the research can go, and I appreciate their ideas on what might be interesting."
5. Evidence of impact
Higher education institutions, particularly in the UK, increasingly need to show evidence of their research 'impact' to maintain public funding. Partnership with Baillie Gifford provides opportunities to demonstrate the influence of their research.
6. Ideas for spin-outs
Some partners develop ideas for new companies or spin-outs based on their discoveries and wish to assess support. Baillie Gifford can provide feedback and guidance, or contacts with companies and clients to help their first forays into entrepreneurship.
7. Networking opportunities
Academic partners like to expand their networks. They appreciate being put in touch with potential future collaborators. One American academic told us: "I have a network of collaborators who I bounce ideas off, but they're all academics. It's helpful speaking to Baillie Gifford to get an investment perspective about what matters in practice. And they've introduced me to clients, which has spawned additional exchanges of ideas and expanded my networks."
We believe that our academic relationships ultimately benefit our clients. Talking with leading thinkers and access to cutting-edge research make us better investors. As our understanding of science, technology, the economy and the environment is enriched through our partnerships with academics, this enables us to make better investment decisions on our clients' behalf.
As long-term stewards of clients' capital, we seek equally long-term perspectives when it comes to research. And the longest-term view out there comes from those experts who have been unravelling the world's many complexities all their professional lives.
To sum up
Investment teams across Baillie Gifford have developed positive, trusting, and meaningful relationships with researchers who have shown us new ways of looking at the world.
This engagement has given us:
Deeper understanding of transformative change: technological, economic and social
A freer exchange of ideas with some of the world's brightest minds
Greater insight into our own investment strategies
On your behalf we strive to be responsible, generous and scrupulous partners. We are proud of the impact our support has had on helping companies tackle some of the world's outstanding complex problems.
With our help, academic partners have developed new technologies to improve patient outcomes, designed community projects to reduce child poverty, and discovered new ways to reduce our fossil fuel reliance to prevent catastrophic climate change.
The prospect of further progress on these and many other global problems is immensely exciting. The chance to collaborate on issues once deemed insoluble inspires us to go further: to forge ever broader and deeper connections with academic experts, with ever greater shared ambition.
Important Information
The views expressed in this article are those of Eve Hepburn and should not be considered as advice or a recommendation to buy, sell or hold a particular investment. They reflect personal opinion and should not be taken as statements of fact nor should any reliance be placed on them when making investment decisions. 
This communication was produced and approved in September 2022 and has not been updated subsequently. It represents views held at the time of writing and may not reflect current thinking.
Potential for Profit and Loss 
All investment strategies have the potential for profit and loss, your or your clients' capital may be at risk. Past performance is not a guide to future returns. 
Stock Examples 
Any stock examples and images used in this article are not intended to represent recommendations to buy or sell, neither is it implied that they will prove profitable in the future. It is not known whether they will feature in any future portfolio produced by us. Any individual examples will represent only a small part of the overall portfolio and are inserted purely to help illustrate our investment style. 
This article contains information on investments which does not constitute independent research. Accordingly, it is not subject to the protections afforded to independent research, but is classified as advertising under Art 68 of the Financial Services Act ('FinSA') and Baillie Gifford and its staff may have dealt in the investments concerned.
All information is sourced from Baillie Gifford & Co and is current unless otherwise stated. 
The images used in this article are for illustrative purposes only.
Baillie Gifford & Co and Baillie Gifford & Co Limited are authorised and regulated by the Financial Conduct Authority (FCA). Baillie Gifford & Co Limited is an Authorised Corporate Director of OEICs.
Baillie Gifford Overseas Limited provides investment management and advisory services to non-UK Professional/Institutional clients only. Baillie Gifford Overseas Limited is wholly owned by Baillie Gifford & Co. Baillie Gifford & Co and Baillie Gifford Overseas Limited are authorised and regulated by the FCA in the UK.
Persons resident or domiciled outside the UK should consult with their professional advisers as to whether they require any governmental or other consents in order to enable them to invest, and with their tax advisers for advice relevant to their own particular circumstances.
Financial Intermediaries
This communication is suitable for use of financial intermediaries. Financial intermediaries are solely responsible for any further distribution and Baillie Gifford takes no responsibility for the reliance on this document by any other person who did not receive this document directly from Baillie Gifford.
Europe
Baillie Gifford Investment Management (Europe) Limited provides investment management and advisory services to European (excluding UK) clients. It was incorporated in Ireland in May 2018. Baillie Gifford Investment Management (Europe) Limited is authorised by the Central Bank of Ireland as an AIFM under the AIFM Regulations and as a UCITS management company under the UCITS Regulation. Baillie Gifford Investment Management (Europe) Limited is also authorised in accordance with regulation 7 of the AIFM Regulations, to provide management of portfolios of investments, including Individual Portfolio Management ('IPM') and Non-Core Services. Baillie Gifford Investment Management (Europe) Limited has been appointed as UCITS management company to the following UCITS umbrella company; Baillie Gifford Worldwide Funds plc. Through passporting it has established Baillie Gifford Investment Management (Europe) Limited (Frankfurt Branch) to market its investment management and advisory services and distribute Baillie Gifford Worldwide Funds plc in Germany. Similarly, it has established Baillie Gifford Investment Management (Europe) Limited (Amsterdam Branch) to market its investment management and advisory services and distribute Baillie Gifford Worldwide Funds plc in The Netherlands. Baillie Gifford Investment Management (Europe) Limited also has a representative office in Zurich, Switzerland pursuant to Art. 58 of the Federal Act on Financial Institutions ('FinIA'). The representative office is authorised by the Swiss Financial Market Supervisory Authority (FINMA). The representative office does not constitute a branch and therefore does not have authority to commit Baillie Gifford Investment Management (Europe) Limited. Baillie Gifford Investment Management (Europe) Limited is a wholly owned subsidiary of Baillie Gifford Overseas Limited, which is wholly owned by Baillie Gifford & Co. Baillie Gifford Overseas Limited and Baillie Gifford & Co are authorised and regulated in the UK by the Financial Conduct Authority.
China
Baillie Gifford Investment Management (Shanghai) Limited 柏基投资管理(上海)有限公司 ('BGIMS') is wholly owned by Baillie Gifford Overseas Limited and may provide investment research to the Baillie Gifford Group pursuant to applicable laws. BGIMS is incorporated in Shanghai in the People's Republic of China ('PRC') as a wholly foreign-owned limited liability company with a unified social credit code of 91310000MA1FL6KQ30. BGIMS is a registered Private Fund Manager with the Asset Management Association of China ('AMAC') and manages private security investment fund in the PRC, with a registration code of P1071226. Baillie Gifford Overseas Investment Fund Management (Shanghai) Limited 柏基海外投资基⾦管理(上海)有限公司 ('BGQS') is a wholly owned subsidiary of BGIMS incorporated in Shanghai as a limited liability company with its unified social credit code of 91310000MA1FL7JFXQ. BGQS is a registered Private Fund Manager with AMAC with a registration code of P1071708. BGQS has been approved by Shanghai Municipal Financial Regulatory Bureau for the Qualified Domestic Limited Partners (QDLP) Pilot Program, under which it may raise funds from PRC investors for making overseas investments.
Hong Kong
Baillie Gifford Asia (Hong Kong) Limited 柏基亞洲(⾹港)有限公司 is wholly owned by Baillie Gifford Overseas Limited and holds a Type 1 and a Type 2 license from the Securities & Futures Commission of Hong Kong to market and distribute Baillie Gifford's range of collective investment schemes to professional investors in Hong Kong. Baillie Gifford Asia (Hong Kong) Limited 柏基亞洲(⾹港)有限公司 can be contacted at Suites 2713-2715, Two International Finance Centre, 8 Finance Street, Central, Hong Kong. Telephone +852 3756 5700.
South Korea
Baillie Gifford Overseas Limited is licensed with the Financial Services Commission in South Korea as a cross border Discretionary Investment Manager and Non-discretionary Investment Adviser.
Japan
Mitsubishi UFJ Baillie Gifford Asset Management Limited ('MUBGAM') is a joint venture company between Mitsubishi UFJ Trust & Banking Corporation and Baillie Gifford Overseas Limited. MUBGAM is authorised and regulated by the Financial Conduct Authority.
Australia
Baillie Gifford Overseas Limited (ARBN 118 567 178) is registered as a foreign company under the Corporations Act 2001 (Cth) and holds Foreign Australian Financial Services Licence No 528911. This material is provided to you on the basis that you are a 'wholesale client' within the meaning of section 761G of the Corporations Act 2001 (Cth) ('Corporations Act'). Please advise Baillie Gifford Overseas Limited immediately if you are not a wholesale client. In no circumstances may this material be made available to a 'retail client' within the meaning of section 761G of the Corporations Act. This material contains general information only. It does not take into account any person's objectives, financial situation or needs.
South Africa
Baillie Gifford Overseas Limited is registered as a Foreign Financial Services Provider with the Financial Sector Conduct Authority in South Africa.
North America
Baillie Gifford International LLC is wholly owned by Baillie Gifford Overseas Limited; it was formed in Delaware in 2005 and is registered with the SEC. It is the legal entity through which Baillie Gifford Overseas Limited provides client service and marketing functions in North America. Baillie Gifford Overseas Limited is registered with the SEC in the United States of America. The Manager is not resident in Canada, its head office and principal place of business is in Edinburgh, Scotland. Baillie Gifford Overseas Limited is regulated in Canada as a portfolio manager and exempt market dealer with the Ontario Securities Commission ('OSC'). Its portfolio manager licence is currently passported into Alberta, Quebec, Saskatchewan, Manitoba and Newfoundland & Labrador whereas the exempt market dealer licence is passported across all Canadian provinces and territories. Baillie Gifford International LLC is regulated by the OSC as an exempt market and its licence is passported across all Canadian provinces and territories. Baillie Gifford Investment Management (Europe) Limited ('BGE') relies on the International Investment Fund Manager Exemption in the provinces of Ontario and Quebec.
Israel
Baillie Gifford Overseas is not licensed under Israel's Regulation of Investment Advising, Investment Marketing and Portfolio Management Law, 5755-1995 (the Advice Law) and does not carry insurance pursuant to the Advice Law. This material is only intended for those categories of Israeli resident.
26568 10014262