From Nest to net zero: the story of Tony Fadell
Key Points
Tony Fadell changed the world of consumer electronics with the iPod, iPhone and Nest thermostat
In his new book Build, he shares his successes and failures with would-be innovators
His investment fund focuses on companies developing climate-related projects
Photography by Sam Hardwick
Please remember that the value of an investment can fall and you may not get back the amount invested. This article originally featured in Baillie Gifford's Autumn 2022 issue of Trust magazine.
Tony Fadell has a story to tell me. In fact, he has dozens: about the iPod, about Steve Jobs, about the Nest thermostat and why Google can't really crack hardware, about the metaverse and why it's a lame idea. And despite his day starting with a train from Paris to London followed by a four-hour car journey to the Hay Festival, the stories just keep tumbling out.
He's here to promote Build: An Unorthodox Guide to Making Things Worth Making. His book is a manual on how to run a tech hardware business and a storyteller's manifesto. Because Fadell believes that at the heart of every successful product is a compelling story, and to succeed you need to know how to construct that narrative. Not just to convince customers but to persuade investors, motivate employees, sway retailers and help you make 'hard choices' along the way.
So I begin by asking him to tell me the tale of the iPod, the product that brought him to Apple and transformed the company's fortunes. "I was a DJ in the 90s and would lug around all these CDs," he explains. "It was heavy, and I wanted to play lots of different music."
Every hit product, according to Fadell, must be a "painkiller". What hurt here was not being able to access music on the move. "The iPod was 1,000 songs in your pocket – before you only had 10 songs on your cassette tape or on your CD."
Fadell had led a team at the Dutch electronics giant Philips making handheld devices such as the Nino, the first product to use Audible's audiobooks service. "I was like, wait a second, this can be music!" But it was at Apple, where he arrived as a contractor in 2001, that he started building a music player.
Every hit product, according to Fadell, must be a "painkiller"
Fadell was watching backstage, both terrified that something would go wrong and confident that Jobs could weave his magic.
"He had been telling that story for two years," he explains. "Most CEOs get up there and it's the first time they've seen the product. It was Steve's every waking moment for two-and-a-half years, sweating every detail – understanding how we're going to sell it, how we're going to market it. And he would continually refine that story."
The other reason Fadell had faith was that inside Apple some executives had been given prototype iPhones. They quickly became obsessed. "When you saw the culture shift inside Apple because of this device and people screaming when it wasn't working… you saw that we had something."
In 2010 Fadell left Apple to sell his own story: a smart thermostat called Nest that cut owners' bills and reduced strain on energy providers by fine-tuning when to turn heating and air conditioning on and off. "If I wanted to be comfortable in my home, and I wanted to save the most amount of money, I had no tools to do that," he explains.
He pitches this as the tale of a scrappy upstart battling against Big Thermostat, the Honeywells of this world, and the professionals who would install their ugly products in your home. "You didn't have any consumer choice on what you chose. They chose it for you."
Nest delivered an Apple-like experience: a beautiful product in beautiful packaging with an elegant little screwdriver and simple instructions. Fadell then sold Nest for $3.2bn to Google, which promised continuing independence and the resources needed for further connected home products.
Father of invention
Tony Fadell's hits and misses
Misses
Sony Magic Link (1994)
This bulky touchscreen device combined phone, email, games and downloadable apps long before smartphones hit the mainstream. It didn't sell. Why? Fadell says it's because people didn't recognise the problems it solved until more than a decade later.
Philips Nino (1998)
The Windows CE-powered PDA (personal digital assistant) featured handwriting recognition, accepted voice commands and boasted a relatively long battery life. According to Fadell, Philips didn't market it properly, and shops confused customers by displaying it alongside laptops.
Hits
Apple iPod (2001)
The breakthrough music player that transformed Apple's fortunes. Its spinnable scroll wheel (replaced by a touch-based version in later iPods) made hundreds of songs easily accessible on the move.
Apple iPhone (2007)
The iPhone wasn't the first smartphone, but it defined what handsets would become. Fadell's team engineered the hardware and core software. Its phenomenal success made Apple the world's most valuable company.
Nest Learning Thermostat (2011)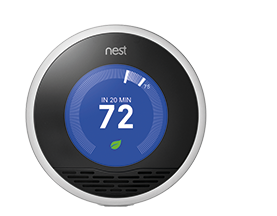 As well as being 'smart', Nest designed its internet-connected thermostat to be hung on walls "like a piece of art". Its success led to a follow-up smoke alarm and Nest's $3.2bn takeover by Google (now Alphabet) in 2014.
Here the story gets fuzzy. Google became Alphabet and suddenly Nest faced job cuts, among other demands. There was a falling out. Fadell still insists the sale was the right move. But he contrasts Google's culture with Apple's, wondering whether the former's success with advertising has made it complacent.
"We know that people don't change their lifestyle until they've had a near-death experience. When you look at the two cultures, they're born out of the leaders. Steve had gone through many [professional] near-death experiences, and [Google's leadership] never did."
These days, Fadell makes bets on other people's stories as the founder of the investment firm Future Shape. So where does he see the next wave of innovation coming from? Augmented reality glasses that fuse the real and digital worlds perhaps?
Fadell says he thinks the technology has "powerful uses". But he's sceptical about the 'metaverse' – virtual worlds where we will supposedly spend our business and leisure time in avatar form. "We're going to dance in the metaverse, and we're going to replace meetings – even Zoom meetings – with a metaverse where we're an animated character? I don't buy it."
Instead, what fires him up is global warming.
"It's the climate crisis that I care about, the existential issue. The entrepreneurs are there, the technology's there that can fix these problems. We just need to get them to go to scale much more quickly."
We're going to replace meetings – even Zoom meetings – with a metaverse? I don't buy it
Fadell was an early backer of Impossible Foods, the plant-based food business. And he has a stake in Universal Hydrogen, which aims to make carbon-free flights common. But, unsurprisingly, he is most animated about a hardware company.
Menlo Micro's product, the Ideal Switch, is billed as the biggest advance in 100 years in relays – switches that turn circuits on and off and are at the heart of many electronic devices.
Of course, Fadell has a story to illustrate its energy-saving potential: "In India, 6 to 8 per cent of all electrical consumption goes to ceiling fans – 6 to 8 per cent! With this one switch, if we add it into the control box, we now cut that down to 3 to 4 per cent."
His message is one of typical Silicon Valley techno-utopianism: we can do this, and it doesn't have to hurt. "We don't have to live in a different way. Let's go after the inefficiencies that we have – I couldn't be more excited about the future."
A cynic might say that trying to achieve net zero emissions painlessly is naïve. But Tony Fadell's career has been all about telling convincing stories about products that went on to improve our lives. Maybe he can pull off the same trick again.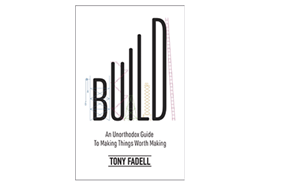 Build: An Unorthodox Guide to Making Things Worth Making is published by Bantam Press (hardback: £20).
Important Information
The views expressed in this article should not be considered as advice or a recommendation to buy, sell or hold a particular investment. The article contains information and opinion on investments that does not constitute independent investment research, and is therefore not subject to the protections afforded to independent research.
Some of the views expressed are not necessarily those of Baillie Gifford. Investment markets and conditions can change rapidly, therefore the views expressed should not be taken as statements of fact nor should reliance be placed on them when making investment decisions.
Baillie Gifford & Co Limited is wholly owned by Baillie Gifford & Co. Both companies are authorised and regulated by the Financial Conduct Authority and are based at: Calton Square, 1 Greenside Row, Edinburgh EH1 3AN.